Up until recently, I'd spend much of the holiday season racking my brain trying to come up with great presents for my family members, friends, co-workers, and so forth. But a couple of years ago, I had the idea to forego store-bought gifts in favor of homemade candy.
Now I will say that from a time-related perspective, this move didn't do me many favors. Making batch after batch of candy and confections is a time-consuming process, and then once the stuff is made you still have to package it up all nice and pretty. But from a crowd-pleasing perspective, homemade candy for the holidays is one of the best ideas I've ever had. And although candy-making does take some time, most of the recipes I use are super easy. And as an added bonus, you get to keep some of the candy for yourself, or at least taste little bits and pieces along the way.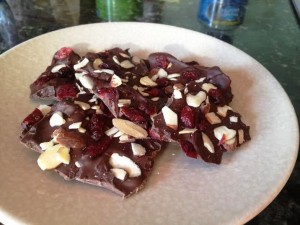 Chocolate Almond Cranberry Bark
Ingredients:
2 cups dark chocolate morsels or melting discs
2/3 cup slivered almonds, plus another 1/4 cup for topping
2/3 cup dried cranberries, plus another 1/4 cup for topping
Method:
Line a baking sheet with parchment paper and set aside.
Melt the dark chocolate using either a double boiler or your microwave at 50% power for 30-second increments. Pay attention to your chocolate and remove it from the heat once it's mostly melted. Leave it too long, and your chocolate will seize.
Once melted, mix in 2/3 cup almonds and 2/3 cup dried cranberries.
Pour the chocolate mixture onto the prepared baking sheet, using the back of a spoon or a spatula to spread it evenly.
Quickly sprinkle the remaining almonds and dried cranberries on top.
Place the baking sheet in the fridge and leave for at least one hour to set. Use your hands to break up the set mixture into fun, festive pieces of bark.