I've said it before, and I'll say it again: I just adore chocolate and peanut butter together. Whoever first came up with the idea to marry the two in dessert form deserves some of medal or prize. And since I needed something to bring to a potluck dinner this past weekend, I decided to whip up some super-rich, ultra-decadent chocolate peanut butter cupcakes.
Now let me warn you: These cupcakes aren't for the faint of heart. There's a lot of chocolate and a lot of peanut butter in there, which means these babies are in no way, shape, or form even remotely healthy. But they're so delicious it almost doesn't (shouldn't) bother you.
Putting these cupcakes together takes a bit of time—time I really didn't have but managed to come up with in the form of foregone sleep. (Again, worth it. ) Each of the steps involved is fairly easy, but the batter can be a bit tricky to work with (see below), and of course it just plain takes time to individually frost 24 cupcakes. (It takes even longer when you keep stopping to sample the frosting while refilling your piping bag.) But the end result is a pretty, indulgent treat that's the perfect reward for all that hard work.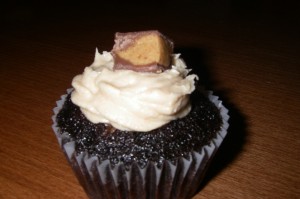 Dark Chocolate Peanut Butter Cupcakes with Peanut Butter Buttercream
Cupcake recipe slightly adapted from Alida's Kitchen
Ingredients:
For the cake:
2 cups granulated sugar
1 3/4 cups AP flour
1/2 cup unsweetened dark cocoa powder (I used Hershey's Special Dark)
1 1/2 teaspoons baking powder
1 teaspoon salt
1/4 teaspoon baking soda
2 eggs
1 cup water
1 cup skim milk
1/2 cup canola oil
2 teaspoons vanilla extract
For the filling:
6 ounces cream cheese, at room temperature (the original recipe offers a lighter option, but I decided to go all in)
1/2 cup peanut butter
1/4 cup granulated sugar
2 tablespoons whole milk (the original recipe calls for skim, and I'm sure that would be fine as well)
For the frosting:
1 and 1/2 sticks of butter, at room temperature
3/4 cup peanut butter
2 and 3/4 cup confectioners sugar
1 tablespoon milk (I used whole)
Method:
To make the cake:
1. Preheat your oven to 350 degrees. Line 24 muffin cups with liners and set aside.
2. In a large bowl, whisk together the sugar, flour, cocoa, baking powder, salt, and baking soda.
3. In a separate bowl, whisk the eggs, water, milk, oil, and vanilla. Fold the wet imxture into the dry ingredients until just moistened. Note that the batter will be pretty thin.
4. Fill prepared muffin cups halfway with batter and set remaining batter aside.
To make the filling:
1. Using a hand or stand mixer, beat the cream cheese, peanut butter, sugar, and milk until combined. Divide the filling evenly amongst the 24 cups, dropping a spoonful of filling in the center of each.
2. Cover each cup with the remaining chocolate batter.
3. Bake for 25 minutes, or until a toothpick inserted into the cake comes out clean.
4. Cool for 10 minutes in the pan; then move the cupcakes to a wire rack to cool completely before adding the frosting.
To make the frosting:
1. In the bowl of your stand mixer, beat the butter and peanut butter together on medium speed until the mixture gets nice and smooth.
2. Add the confectioners sugar and beat on low for about one minute. Scrape down the sides of the bowl as necessary.
3. Add the tablespoon of milk and beat on medium for about another minute. If needed, add a little more confectioners sugar if you want your frosting to be thicker.
4. Use a spatula or piping bag to top your cupcakes once cooled.
5. Garnish with chopped miniature peanut butter cups if desired.
A few notes:
1. As mentioned above, the chocolate cupcake batter is pretty thin, which makes getting it cleanly into your muffin cups a bit of a challenge. I suggest using a batter/ice cream scoop but having a teaspoon ready underneath to catch stray drips.
2. I don't tend to like tons of frosting on my cupcakes, and since these cupcakes are quite rich to begin with, I found that a small amount worked perfectly. But if you're the type to pile on the frosting (and there'd be nothing wrong with that), you'll probably want to make one and a half times the amount referenced above.