Ever have a recipe bookmarked for ages that you're just itching to try but don't have the time to tackle?
Such was the case with this particular cheesecake. But let me backtrack a little, only to tell you how much I love cheesecake. Whether it's the rich and dense kind or the type that's light and airy, put it in front of me and I'll be sure to devour it. And then go get myself another piece. And maybe a third one after that. Yes, I like cheesecake that much. And if there's one flavor profile I also happen to adore, it's the vanilla and white chocolate combo. Talk about heavenly. So when I found a cheesecake recipe that incorporated several of my favorite elements into one rich, indulgent dessert, I just had to give it a try…about six months later. That's how long this recipe has been swirling around in my mind, just begging my stomach to give in and make it. But it finally happened. And it was well worth the wait.
Now I'll warn you: This recipe is not a quick one. There are four separate steps, though two of them are fairly simple. Usually I don't have the luxury of making multi-layered cakes, but between my son's birthday and the holidays, I was in such a celebratory mood that I forced myself to make the time.
What you've got here is a classic, simple graham cracker crust topped with a rich layer of vanilla-flavored cheesecake. On top of that is a nice helping of white chocolate mousse, followed by a generous layer of vanilla whipped cream. In other words, pure and utter deliciousness on a plate, and well worth the multi-hour investment.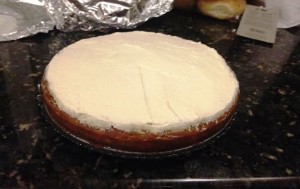 Vanilla and White Chocolate Mousse Cheesecake
Recipe very slightly adapted from The Inner Gourmet
Ingredients:
For the crust:
1 and 1/2 cups crushed graham crackers
1/4 cup dark brown sugar
1/2 cup butter, melted
1 egg yolk, beaten
1/4 teaspoon vanilla
For the cheesecake layer:
16 ounces cream cheese, softened
1 cup sour cream
2 tablespoons corn starch
1 cup granulated sugar
1 stick unsalted butter, softened
1 stick salted butter, softened
2 teaspoons vanilla
For the white chocolate mousse:
1 cup whipping cream
3 tablespoons confectioners sugar
4 ounces cream cheese, softened
5 ounces white chocolate baking squares, melted and cooled to room temperature
For the vanilla whipped cream topping:
1 cup whipping cream
3 tablespoons confectioners sugar
2 teaspoons vanilla
Method:
To make the crust:
Preheat your oven to 375 degrees.
In a small bowl, whisk together the graham crackers, brown sugar, butter, egg yolk, and vanilla until well-combined. Press the mixture into the bottom of a 9-inch springform pan.
Bake for 8-10 minutes, or until the edges start to turn brown.
Let the crust cool completely while you make the cheesecake layer.
To make the cheesecake:
Lower your oven to 325 degrees.
Beat the cream cheese and butter at medium speed until smooth.
Add in sugar and beat until well-combined.
Add in the sour cream, corn starch, and vanilla; mix on low until smooth.
Pour the mixture on top of the crust, doing your best to spread it evenly.
Bake the cheesecake for one hour. After an hour, it will probably still look jiggly, but don't worry – this is normal.
Turn off the oven, open the oven door, and let the cheesecake sit in the oven for one hour.
Remove the cheesecake from the oven and let it cool to room temperature, at least one hour.
Place the cheesecake in the fridge to set, at least 4-5 hours or overnight.
To make the mousse (you can do this in advance and keep it in the fridge, or do it right before you're ready to spread it and just chill it for a few minutes before applying to the cake):
In the bowl of a stand mixer, whip the cream on high until soft peaks form.
Gradually add in your confectioners sugar and beat until stiff peaks form.
Place the whipped cream in the fridge for 5-10 minutes. Meanwhile, combine the melted white chocolate (which, by the way, should be completely cooled before you use it – make sure of this) and cream cheese and beat until smooth and fluffy.
Remove the whipped cream from the fridge, fold it into the white chocolate mixture, and place the mousse back in the fridge for 15-20 minutes.
Once the mousse is nice and cold, use an offset spatula to spread it on top of the cheesecake layer.
Return the cheesecake to the fridge until you're ready to top it with the whipped cream (which I recommend doing right before you serve it).
To make the whipped cream:
In the bowl of a stand mixer, whip the cream on high until soft peaks form.
Gradually stir in the confectioners sugar and vanilla, and beat until stiff peaks form.
Chill the whipped cream for at least 20-30 minutes (or overnight) before topping off the cheesecake.
Store your leftovers, if any remain, covered in the fridge. The cheesecake will keep for 2-3 days.