Yesterday was just one of those days. You know, those days.
I won't bore you all with the details, but let's just say that every minor thing that could've gone wrong went wrong. In other words, nothing particularly terrible—just enough tiny doses of annoyance whose sum total rendered me frustrated and aggravated by the time I was able to finally put the baby to bed and call it a day.
Okay, vent over. See, that wasn't so bad. And now I can talk about the cookie dough truffles I made myself to compensate for the above-referenced aggravation.
These truffles are tasty and super easy to whip up. But, you need some time to allow them to set, so if you're craving something sweet in an instant, you'll probably want to opt for something that doesn't require you to wait three hours (though you could, ahem, always eat some of the cookie dough along the way…as long as nobody's watching, your secret is safe).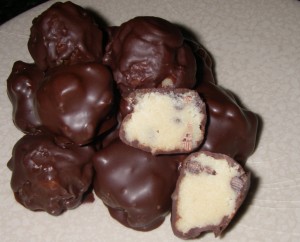 Cookie Dough Truffles
Recipe from Sweet Pea's Kitchen
Ingredients:
For the cookie dough:
1 and 1/2 sticks of butter
3/4 cup light brown sugar
3/4 cup granulated sugar
3 tablespoons milk (I used whole)
1 1/2 teaspoons vanilla
1 1/2 cups AP flour
1 1/2 cups mini semisweet chocolate chips
For the dipping chocolate:
6 ounces semisweet chocolate
2 tablespoons shortening
Method:
1. Line a baking sheet with waxed paper and set aside.
2. Beat the butter, brown sugar, and white sugar until light and fluffy, about 3 minutes. Beat in milk and vanilla until combined, about 1 minute. Mix in flour just until combined. Stir in chocolate chips.
3. Shape the cookie dough into balls, using about 2 teaspoons of dough for each ball. (I started out doing this with a spoon and after a couple of tries found that it was easier to just use my hands.)
4. Place the cookie dough balls on your lined baking sheet and refrigerate for at least an hour (I left mine in for about 90 minutes, and that did the trick).
5. Once the cookie dough balls have hardened up, melt the shortening and chocolate. I did this in the microwave on 50% power for 30-second intervals, stirring in between each.
6. Dip the cookie dough balls in the melted chocolate and return them to the baking sheet (or, do what I did and prepare a second waxed paper-lined baking sheet).
7. Let the coated cookie dough balls set in the fridge for 1-2 hours before serving.