Most people's make New Year's resolutions to limit the amount of sweets they eat. I've unofficially declared the opposite—that this year, I will bake more goodies and stuff my face with yummy treats galore. (In my defense, I do spend a good part of my day running after or carrying an infant. That counts as exercise, right?)
So to kick things off on a not-so-healthy but definitely delicious note, I decided to make peppermint bark brownies. Now I have to admit that I'm a bit obsessed with peppermint bark. But the thing is, I really only tend to eat a lot of it around this time of year. After while, I like to move on to different flavors. But if I'm being honest, I've probably had peppermint bark in some shape or form almost every day since early December. (The fact that I made my own mega-batch right around the holidays left me with no choice, really.) And I haven't gotten tired of it yet.
If you're a fan of peppermint bark and like rich, dense chocolate brownies, definitely give these a try. They're super easy to make, as they don't require any special tools or gadgets. And they bake up quickly, which means you won't have to wait long to enjoy the marriage of chocolate and peppermint with a nice cup of coffee or glass of milk. Yeah, you'll probably want to go for the latter.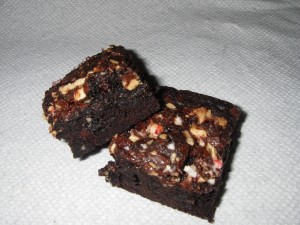 Peppermint Bark Brownies
Adapted from Food.com
Ingredients:
½ cup butter, melted and then brought back to room temperature
½ cup unsweetened dark cocoa (I used Hershey's Special Dark)
1 cup sugar
2 eggs
½ cup AP flour
¼ teaspoon salt
½ teaspoon peppermint extract
1 teaspoon vanilla
A little less than a quarter cup of coffee
1 cup of crushed peppermint bark***, divided
Method:
1. Preheat your oven to 350 degrees and grease an 8×8 pan.
2. Combine the butter and cocoa until well-blended.
3. Add the sugar and mix well.
4. Stir in the peppermint and vanilla extracts followed by the coffee, and mix well.
5. Stir in the flour and salt, and whisk until combined.
6. Stir in ½ cup peppermint bark.
7. Pour batter into prepared pan and top with remaining peppermint bark.
8. Bake for 22-25 minutes, or until a toothpick inserted comes out clean. Cool in pan on a wire rack.
***Don't have peppermint bark on hand, or don't want to spend the money on it? Here's a tip: Trader Joe's sells peppermint bark baking bits right around the holidays. I think I paid three bucks for a bag that made these brownies plus a generous batch of peppermint bark cookies. There's definitely no need to spring for high-end peppermint bark to make this recipe. Another option: Instead of peppermint bark, combine equal parts chopped white chocolate, chopped dark chocolate, and crushed candy canes, mix together, and incorporate as per the instructions above.