This past Thursday was Thanksgiving, and I can't even begin to describe the scene in our kitchen during the hours leading up to the big event. Let's just say that my wonderful husband cooked up a storm while I baked my tail off to ensure that there'd be enough sweet stuff to go around. Naturally, I overdid it. We both did, to a certain extent – though on the plus side, having a ton of leftovers means I don't have to cook for the rest of the week. Plus, as nice as it is to have our family over, there's just something to be said about curling up on your couch in your pajamas and eating leftovers without having to worry about being the host. Yeah, that was us last night.
Anyway, needless to say I've got lots of catch-up to do on here, but I'll start with one of my favorite Thanksgiving recipes: apple and cranberry crisp. I'm a big fan of fruit crisps in general, and the apple-cranberry combination is no exception. I love the contrast of the tart cranberries and sweet apples. And when you help yourself to a generous plate of warm, fresh-from-the-oven apple and cranberry crisp and top it with a scoop of your favorite vanilla ice cream, it just doesn't get better than that.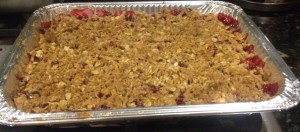 Apple and Cranberry Crisp
Ingredients:
For the fruit layer:
3 large apples, peeled, cored, and cut into small chunks
12 ounces cranberries (fresh or frozen)
1/2 cup granulated sugar
4 tablespoons AP four
Pinch of salt
1 tsp vanilla
1 tbsp lemon juice
1 tbsp orange juice
For the topping:
6 tbsp cold butter, diced
2/3 cup AP flour
2/3 cup rolled oats
1/4 cup dark brown sugar
1/2 cup light brownsugar
1 tsp cinnamon
1/2 tsp nutmeg
1/2 tsp ginger
1/2 tsp salt
Method:
Preheat your oven to 375 degrees. Grease a 9×13 baking pan and set aside.
To make the fruit layer, simply combine all of the ingredients listed above, mix well, and let sit while you make the topping.
To make the topping, whisk together the flour, oats, sugars, salt, and spices. Use a fork to cut in the butter so that thick crumbs form.
Transfer the fruit layer into the prepared and pan and use your fingers to sprinkle the crumb topping over it. (To make this easier, try spraying your fingers with cooking spray.)
Bake for about 50-60 minutes, or until the top is browned and the edges are bubbling.
Let cool slightly before serving. Topping this dessert with vanilla ice cream is optional, but highly recommended.