Sometimes I like to get a little nutty in the kitchen, especially when said nuttiness can be achieved without investing a significant amount of time. I invented this concoction awhile back and decided to whip up a batch recently. I call it Crazy Bark, 'cause, well, it's a little insane.
How do I describe what this is? In a nutshell, it's like a s'more and a peanut chew collided to make one supremely indulgent concoction. I mean, take a look at the ingredients. You've got chocolate and peanut butter. You've got caramel. You've got graham crackers and marshmallows. What more could you ask for?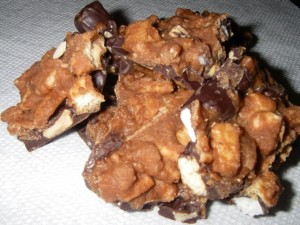 Crazy Bark
Ingredients:
For the bottom layer:
1 cup semisweet chocolate, chopped
1/2 cup dark chocolate
1/3 cup lightly salted peanuts
1/4 cup peanut butter
1/3 cup chopped marshmallows (not mini marshmallows—you want smaller pieces here)
1 graham cracker, chopped
For the top layer:
1/2 cup caramel chips (if you can't find these, feel free to use butterscotch or peanut butter chips instead; or, just double the amount of caramel and milk indicated below)
6-8 Kraft caramels, unwrapped
1 tbsp whole milk (you can use another type of milk if you don't typically have whole milk on hand)
1/3 cup chopped marshmallows
1/3 cup chopped graham crackers
Method:
1. Line a baking sheet with parchment paper and set aside.
2. Melt the semisweet chocolate, dark chocolate, and peanut butter in the microwave on 50% power at 30-second intervals, stirring in between. Once melted, stir in the peanuts, marshmallows, and graham cracker. Pour the mixture into your prepared baking sheet and refrigerate until set (1-2 hours).
3. Once the bottom layer has set, combine the caramel chips, caramels, and milk in a bowl and melt the mixture in the microwave. Once melted, stir in the marshmallows and graham crackers. Pour the mixture over the bottom layer and return to the fridge to set (another 1-2 hours).
4. Once the bark has set, use a sharp knife (or your hands) to break into pieces. Try not to eat entire batch all at once.