Looking for an easy, kid-friendly treat? Try these blondies. They're so simple, but so amazingly good. This recipe takes virtually no time to throw together, and you don't need any fancy tools or anything like that. The hardest part for me was resisting the urge to nibble on M&Ms as I added them to my batter.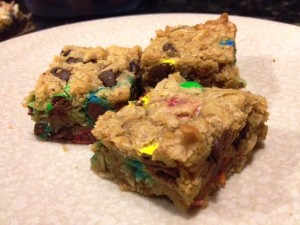 Coconut M&M Blondies
Recipe from RecipeGirl
Ingredients:
10 tablespoons unsalted butter, melted and cooled to room temp
1 cup packed dark brown sugar
1/4 cup granulated white sugar
1 large egg
2 teaspoons vanilla extract
1/4 teaspoon kosher salt
1 1/4 cups all-purpose flour
1 1/4 cups sweetened flaked coconut
1 cup M&Ms
1/2 cup chocolate chips
Method:
Preheat your oven to 350 degrees. Spray an 8×8-inch pan with nonstick spray and then line the bottom with parchment paper.
In a large mixing bowl, combine the butter and sugars.
Stir in the egg, vanilla, and salt.
Stir in flour, coconut, M&Ms, and chocolate chips until well-combined.
Pour the batter into the prepared pan and smooth the top with a rubber spatula. Sprinkle a few additional M&Ms on top if desired.
Bake for 25 to 30 minutes, or until an inserted toothpick comes out clean.
Let the blondies cool completely in the pan before turning them out onto a cutting board and cutting into squares.