Yes, I'm still doing the pumpkin thing. No, I haven't gotten tired of it yet, as evidenced by these moist, cakey pumpkin oatmeal cookies. Feel free to get creative with the mix-ins, though I personally think white chocolate chips and dried cranberries were the perfect choice for this easy recipe.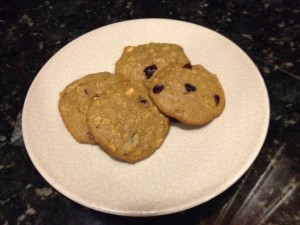 Pumpkin Oatmeal Cookies
Recipe from My Baking Addiction
Ingredients:
2 cups AP flour
1 1/2 cups oldfashioned oats
1 teaspoon baking soda
1 1/2 teaspoon ground cinnamon
1/2 tsp nutmeg
1/2 tsp ginger
1/2 teaspoon kosher salt
1 cup (2 sticks) butter, softened
1 cup packed light brown sugar
1 cup granulated sugar
1 cup pure pumpkin puree
1 large egg
1 teaspoon vanilla
1 cup white chocolate chips
1 cup dried cranberries
Method:
Preheat your oven to 350 degrees. Line 2-3 baking sheets with parchment paper and set aside.
Combine the flour, oats, baking soda, spices, and salt in medium bowl. Beat the butter and sugars in a large bowl until light and fluffy.
Add in the pumpkin, egg, and vanilla, mixing well to combine.
Add the flour mixture; mix until well-incorporated.
Fold in white chocolate chips and dried cranberries.
Drop the batter by rounded tablespoons onto your prepared baking sheets. Bake for 12-14 minutes, or until the cookies are lightly browned. Cool on baking sheets for 2 minutes, then transfer to wire racks to cool completely. When stored in an airtight container, these cookies should last a good 4-5 days (if you don't polish them all off before then).