As part of last weekend's baking extravaganza, I made several batches of hamentashen. For those of you who don't know (and you wouldn't be alone), hamentashen are triangular-shaped cookies that are typically filled with prune, apricot, or raspberry jam. They also happen to be one of my favorite things ever.
Now I will warn that hamentashen are fairly time-consuming as far as cookies go. The classic dough recipe I use is easy enough and takes no time to throw together, but the process of rolling out the dough, filling it, and shaping it requires a decent amount of time and patience. And the dough sometimes doesn't like to cooperate. And the cleanup is atrocious (imagine sticky, caked-on dough particles all over your countertop and flour everywhere). But the end result is undeniably delicious, so if you're up for the challenge, go ahead and make these one day. If anything, the people you share them with will get a kick out of the fun shape.
I like to make a variety of hamentashen, including some non-traditional variations. This year's batch included classic prune, Nutella, apple-caramel, peanut butter and jelly, peanut butter and chocolate chip, and pumpkin. To create this assortment, I used three separate dough recipes, the most challenging of which is by far the classic one.
As far as my favorite version of the hamentashen goes, that's hard to say. I really enjoyed the peanut butter and jelly combination, but there's just something about classic prune-filled hamentashen that makes me keep going back for more. It's a good thing I made almost 200 of these bad boys over the weekend. No, I'm not kidding. I gave most of them away but kept a few dozen on hand for myself…most of which are already gone…
Classic Hamentashen (my mom's recipe)
Ingredients:
5 eggs, plus one more for brushing on the dough
1 and ½ cups vegetable oil
3 tsp baking powder
1 and ½ cups granulated sugar
¾ cup orange juice
6 cups AP flour
1/8 tsp salt
Water as needed, up to ¾ of a cup
Method:
1. Combine eggs, oil, baking powder, sugar, orange juice, flour, and salt in a large mixing bowl. Use a spoon and then your hands to form a dough that is soft but not too sticky. Add water as needed if the dough is too crumbly. If you end up incorporating too much water, you'll need to compensate by adding more flour.
2. Cover the dough with plastic wrap and refrigerate for 30 minutes.
3. Preheat your oven to 350 degrees once the dough has come out of the fridge. Prepare as many baking sheets as you can by lining with aluminum foil and lightly greasing. (This recipe makes anywhere from four to six dozen hamentashen depending on big you make them, so unless you've got an endless supply of cookie sheets, prepare to bake these in several batches.)
4. Divide the dough into four sections and roll it out on a well-floured surface to ¼ inch thickness.
5. Cut the dough into circles using either a cookie cutter or a regular drinking glass (the latter is my preferred method). Place the circles on the prepared baking sheets.
6. Place a small amount of your desired filling in the center of each circle. Be careful not to overfill your hamentashen.
7. Form the circles into triangles by folding the dough over one side at a time. Lightly pinch each corner to seal the hamentashen.
8. Lightly brush each formed hamentashen with beaten egg.
9. Bake for 20-30 minutes, or until the tops are golden brown. Baking times can vary based on the size of your hamentashen as well as your oven, so be sure to check on them frequently once you hit the 20-minute mark.
10. Let the hamentashen cool on their baking sheets for 2-3 minutes, then transfer them to a rack to cool completely.
I used this classic recipe to make my prune, Nutella, and caramel-apple hamentashen. For the caramel apple, I simply used apple pie filling for the cookies and then drizzled them with a caramel sauce I made by heating about 15 Kraft caramel squares with a few teaspoons of milk.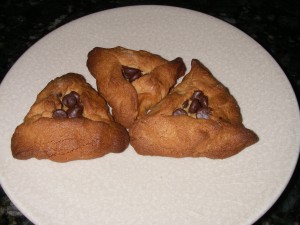 Peanut Butter Hamentashen
Ingredients:
2 sticks of unsalted butter at room temperature
3 cups Ap flour
1 and 1/2 cups granulated sugar
2 large eggs
2 and 1/2 cups smooth peanut butter
1 and 1/2 teaspoons salt
1 teaspoon baking powder
1 teaspoon pure vanilla extract
Method:
1. Using a hand or stand mixer, beat the butter and sugar on medium until the mixture is light and fluffy. Beat in the eggs one at a time. Add in the peanut butter and beat on medium for 2-3 minutes, or until well-combined.
2. Whisk together your flour, salt, and baking powder; then add to the peanut butter mixture and beat at low-medium speed until well-combined. Add your vanilla and mix well.
3. Cover the dough and refrigerate for 30-60 minutes. Then follow the steps above to roll it out and form it into triangles. (No need to use an egg wash for this dough).
4. Bake for 18-22 minutes at 350 degrees, or until the tops are golden brown. Follow the instructions above for cooling.
I filled my peanut butter hamentashen with grape jelly, strawberry jelly, and chocolate chips. I also threw in a couple of smashed-up Butterfinger bars as a filling. Feel free to get creative by adding raspberry jam, Nutella, white chocolate, or your favorite crushed-up candy bar.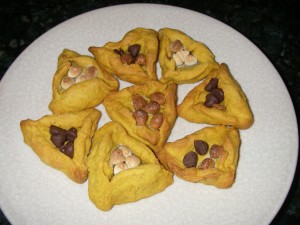 Pumpkintashen (Pumpkin Hamentashen)
Recipe from allrecipes.com
Ingredients:
3/4 cup unsalted butter
1/2 cup packed brown sugar
1 tablespoon orange zest
1/2 cup pumpkin puree
1 egg yolk
1 tsp vanilla extract
2 and 1/4 AP flour
1/4 teaspoon ground cinnamon
1/4 teaspoon ground ginger
1/4 teaspoon ground nutmeg
Pinch of salt
Method:
1. Cream together the butter, brown sugar, and orange zest.
2. Stir in the pumpkin.
3. Add the egg yolk and vanilla; mix well.
4. Sift together the flour, cinnamon, ginger, nutmeg, and salt; stir into the pumpkin mixture.
5. Cover the dough with plastic wrap and chill in the fridge for 30 minutes.
6. Follow the steps above to roll out the dough and form it into triangles. (No need to use an egg wash for this dough).
7. Bake at 375 for 20-25 minutes.
8. Follow the instructions above for cooling.
I filled my pumpkintashen with chocolate chips, white chocolate chips, and butterscotch chips. I think a sweet cinnamon-cream cheese filling would taste fantastic with these, but I kept things simple and stuck to the chips.