Pecan pie is one of those classic Thanksgiving desserts that never seems to go out of style. This dessert is basically the same concept, but in bar form. I forget where I got the original recipe from, but I've tweaked it slightly throughout the years to create a bar that's just a bit less sweet than your typical pecan pie.
Preparing this dessert in bar form makes it easier to dish out when you've got a large crowd, as you don't have to wait for the server to cut each slice individually. And while you do lose the elegance of presenting a whole pie, you don't have to deal with the politics of who's going to be first to cut into said pie. Plus, it's easier to cut smaller portions when you're working with bars, which is a good thing when you're at Thanksgiving dinner and this dessert is only one of seven…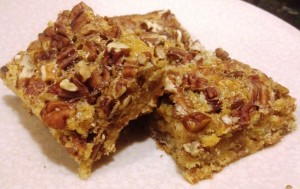 Pecan Pie Bars
Ingredients:
For the crust:
1/4 cup pecans, finely chopped
1 cup AP flour
1/4 tsp baking powder
1/4 tsp salt
4 tbsp butter at room temperature
1/2 tsp vanilla
1/3 cup light brown sugar
For the topping:
2 large eggs
1/4 cup light brown sugar
3/4 cup light corn syrup
1 tsp vanilla
2 tbsp AP flour
1/4 tsp salt
3/4 cup pecans, chopped
Method:
Preheat your oven to 350 degrees. Grease a 9×9 baking pan and set aside.
To make the crust, whisk together the flour, baking powder, salt, and pecans in a small bowl.
In a separate bowl, cream the butter and sugar until light and fluffy. Stir in the vanilla.
Pour the dry mixture into the wet and stir until it forms course crumbs. Press the mixture into the bottom of your prepared pan and bake for 10 minutes, or until the top is lightly browned. Let the bottom layer cool for 10 minutes while you make the topping.
To make the topping, whisk together the eggs, brown sugar, corn syrup, flour, salt, and vanilla until well-combined.
Pour the mixture over the crust, using a spatula as needed to spread evenly.
Sprinkle the chopped pecans over the top of the bars.
Bake for 27-32 minutes, or until the tops start to brown and an inserted toothpick comes out clean.
Let the bars cool in the pan completely (at least one hour, preferably two) before slicing and serving.