Remember that delicious tres leches cake I made recently? Well, the one annoying thing about the recipe is that it calls for about a cup of that yummy milk mixture to be discarded. Since I don't like letting any type of food go to waste, I decided to get creative in finding a way to repurpose some of what I had leftover. And hence these caramel tres leches Rice Krispies treats were born.
This recipe is incredibly easy to whip up. It only takes a few minutes, and there's no actual baking involved. The only thing is that the cleanup can be a little messy…and the bars themselves, though wonderfully tasty, did end up coming out a little sticky. But if you do what I did and cover them individually with plastic wrap, you'll have a nice little snack supply on hand.
Incidentally, I still have some more of that milk mixture left over, so if anyone has any ideas on what to do with it before it goes bad in my fridge, I'm all ears.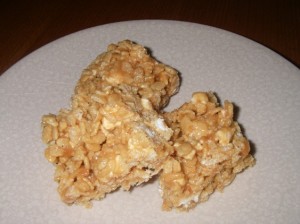 Caramel Tres Leches Rice Krispies Treat
Ingredients:
1 and ½ cups Rice Krispies cereal
1 cup miniature marshmallows
About 20 Kraft caramel candies, unwrapped
3 tablespoons tres leches mix (heavy cream, evaporated milk, and condensed milk combined)
Method:
1. Line an 8×8 baking pan with parchment paper.
2. Combine the caramel candies and tres leches mix and heat in the microwave or on the stovetop until the caramels have melted and the mixture starts to bubble slightly.
3. Stir in marshmallows and cereal, making sure to coat the cereal well.
4. Pour the mixture into your prepared pan and refrigerate until set, about one hour. Cut into squares and enjoy.