I'm not really a salty snack kind of person. Put a bag of chips in front of me, and I'll most probably pass. But what I do love is that classic salty-sweet combination, and so I decided to create a candy bark that offered up the best of both worlds. Enjoy!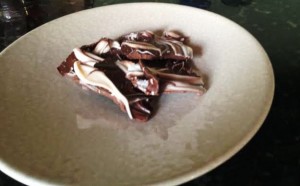 Chocolate Nutella Sea Salt Bark
Ingredients:
1 cup milk chocolate morsels or melting discs
1 cup semisweet chocolate morsels or melting discs
2/3 cup Nutella
1/2 cup white chocolate morsels or melting discs
Pink Himalayan sea salt, for topping
Method:
Line a baking sheet with parchment paper and set aside.
Combine the milk chocolate, semisweet chocolate, and Nutella in a medium bowl and melt in the microwave at 50% power for 30-second increments. Pay attention to the mixture and remove it from the heat once it's mostly melted.
Pour the mixture onto the prepared baking sheet, using the back of a spoon or a spatula to spread it evenly.
Melt the white chocolate using the methods described above.
Once melted, use the back of a spoon or a knife to swirl it around on top of the milk chocolate layer.
Sprinkle sea salt generously on top.
Place the baking sheet in the fridge and leave for at least one hour to set before breaking into pieces.