I'm definitely known as the resident baker among my family members, friends, and coworkers. But when the weather heats up, baking tends to take a backseat to frozen treats and ice cream-related indulgences. And since it's been super hot and humid these past bunch of days, I haven't exactly been in the mood to spend more time than necessary near a warm oven. But this past Sunday I made an exception on the occasion of my mother's birthday.
My mom is awesome. She's everything you could ever ask for in a mother, and as busy as I am, she always seems to be busier—yet somehow she manages to do her job, cook, maintain a household, and take care of her often-needy adult children. (Yep, I'll admit it. Even in my 30s, I still need my mother on a regular basis). So when I found out she'd be coming over to hang out with her grandson ('cause there's really no better way to celebrate your birthday than to chase a 17-month-old around), I decided I had to whip up her favorite dessert: strawberry shortcake.
In the past, I've attempted grand versions of this dessert that have included multiple layers of cake, a rich strawberry filling, and lots and lots of whipped cream. But considering that the last strawberry shortcake I made could've fed a small army, I thought I'd try something simpler since we were a pretty small crowd. And let me tell you, I'm so glad I did, because this version of strawberry shortcake just might be my favorite yet.
You start with a buttery base, layer on some strawberry goodness, and throw a crumbly layer on top to finish it off. In fact, you could say this is more of a strawberry crumble than a strawberry shortcake, and you wouldn't be wrong. I'm certainly not one to argue over semantics when we're talking about something this good.
The original recipe suggests serving this warm, which I did. To make it a bit more decadent and complete, I topped my fresh-from-the-oven cake with some homemade whipped cream and vanilla ice cream. My mom absolutely loved it, as did everybody else at the table. In fact, we basically devoured close to the entire cake in a single sitting. Don't judge us.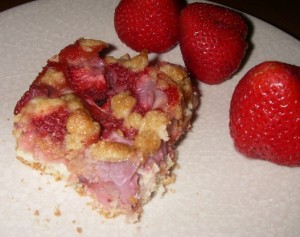 Strawberry Shortcake Crumble
Recipe from Serious Eats
Ingredients:
For the strawberry filling:
1 quart fresh strawberries, washed, hulled, and sliced
2 tablespoons lemon juice
2 tablespoons granulated sugar
For the cake:
2 cups AP flour
4 teaspoons baking powder
3/4 teaspoon salt
1/4 teaspoon nutmeg (I omitted this because my mom doesn't like nutmeg, and we didn't miss it)
6 tablespoons granulated sugar
5 1/3 tablespoons unsalted butter
1 large egg
2/3 cup buttermilk
2 teaspoon vanilla
For the topping:
4 tablespoons unsalted butter
2 tablespoons brown sugar (the original recipe calls for light, and I used dark; either should work)
2 tablespoons granulated sugar
6 tablespoons all purpose flour

Method:
1. Preheat your oven to 400 degrees and lightly grease an 8×12 baking pan (or 9×13 if you don't have the 8×12 size). Pour sliced strawberries into a medium bowl. Sprinkle with lemon juice and toss with sugar. Set aside.
2. In a medium bowl, whisk together the flour, baking powder, salt, and nutmeg. Set aside.
3. In a large mixing bowl or using the bowl of a stand mixer, cream together the sugar and butter. Beat in the egg. Add flour mixture alternately with buttermilk. Stir in vanilla until just incorporated.
4. Spread out the dough in the bottom of your baking pan.
5. Pour the strawberries and juice on top of the dough.
6. Cream together the butter, sugars and flour for the topping and sprinkle over the strawberries.
7. Bake for 35-40 minutes, or until the top turns golden brown and an inserted toothpick comes out clean.
8. Serve warm, ideally with whipped cream and/or ice cream – though the cake is also fabulous on its own.