I'm a big fan of muffins. I mean, all you really have to do is call a cupcake a muffin, and you can totally get away with eating it for breakfast.
But while I have to admit that some muffin recipes pack a bit too much early-morning sugar even for a sweet tooth like me, these muffins are, objectively speaking, perfectly breakfast-appropriate. They're not super sweet, but the combination of dried fruits brings a lot of flavor to the table.
You can definitely feel free to substitute the dried fruits I used for others you might prefer. And if you're not a fan of pecans, you can get away with using walnuts instead—though I think the pecans work wonderfully.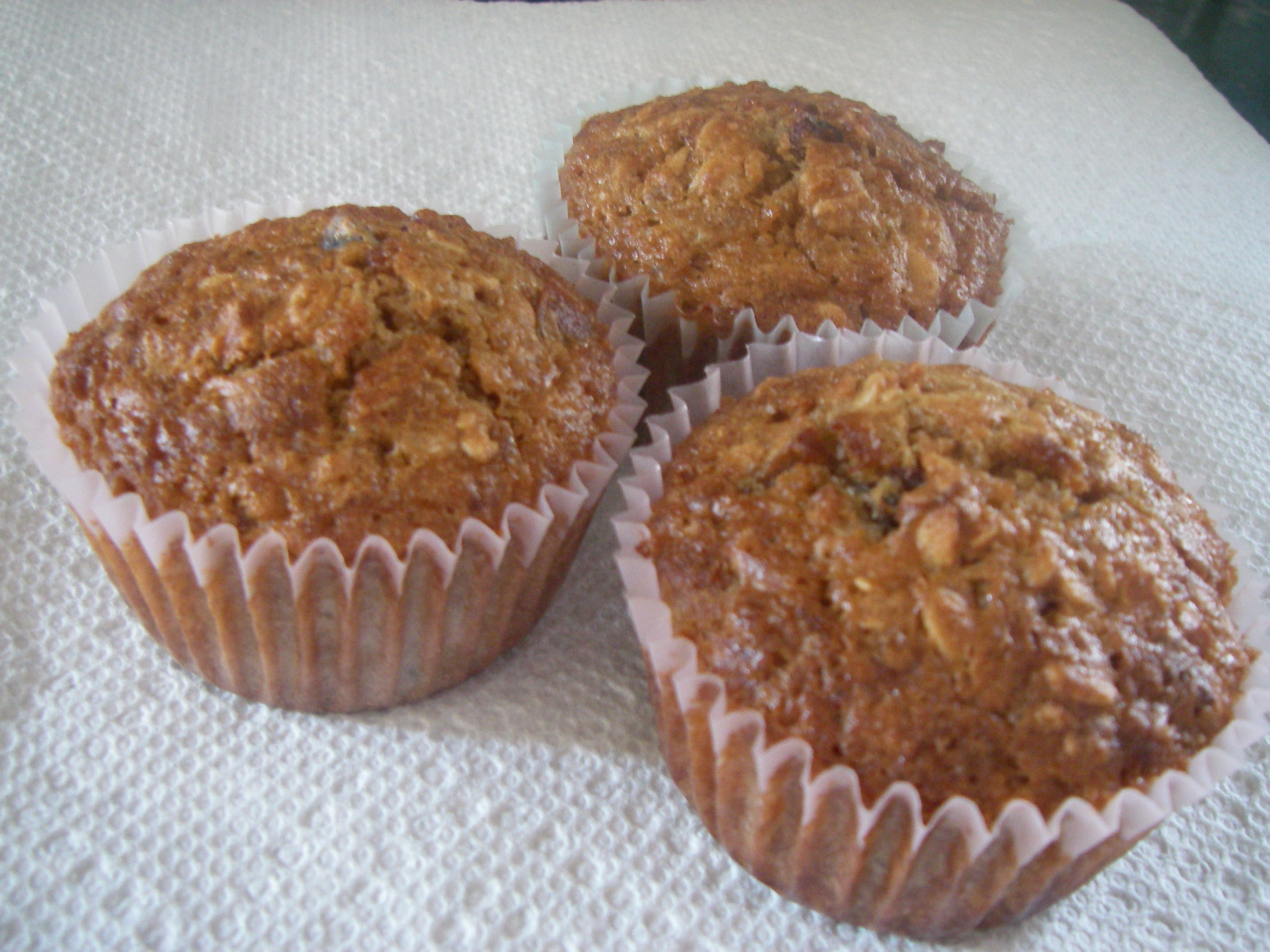 Oatmeal Muffins with Dried Fruits and Pecans
Adapted From Simply Recipes
Ingredients:
1 cup of traditional rolled oats
1 cup AP flour
1/2 cup light brown sugar
1 teaspoon baking powder
1/2 teaspoon baking soda
1/2 teaspoon salt
1/2 teaspoon cinnamon
1/8 teaspoon nutmeg
1/8 teaspoon cardamom
1/4 cup chopped pecans
1/4 cup chopped dates
1/4 cup chopped prunes
1/4 cup dried cranberries
1/2 cup (half a stick) unsalted butter, melted and cooled to room temperature
1 cup buttermilk**
1 large egg
1/2 teaspoon vanilla extract
Method:
1. Preheat your oven to 400 degrees. Line a 12-cup muffin pan with baking cups.
2. In a large bowl, whisk together the oats, flour, brown sugar, baking powder, baking soda, salt and spices.
3. Stir in the pecans and dried fruit.
4. In a separate bowl, whisk together the butter, buttermilk, egg, and vanilla.
5. Pour the wet ingredients into the dry ingredients. Using a rubber spatula or spoon, stir the mixture together gently until just combined.
6. Pour the batter into the prepared muffin cups and bake for 18-20 minutes, or until an inserted toothpick comes out clean.
7. Let the muffins sit in the pan for 2-3 minutes, then transfer to a wire rack to cool completely.
**Don't have buttermilk on hand? Just pour a tablespoon of white vinegar or lemon juice into a measuring cup, and then add enough milk to bring the mixture to the one-cup mark. Let it stand for about five minutes, and then you're good to go.