Now that the warm weather seems to be sticking around, I've been less and less in the mood for brownies (I know, blasphemy) and more and more in the mood for all things fruit-related. I just love the selection of fresh fruit we get this time of year, and I find myself constantly stocking up and chowing down on melons, peaches, plums, and berries. And while I can easily enjoy my fruit as-is, for me, there's almost nothing better than a warm, fresh-from-the-oven fruit crumble.
The great thing about crumbles like this one is that they're super easy to make. Just slice up your favorite fruit and toss it in a little sugar and lemon juice. Then whip up a crumble mixture using your hands, toss it in the oven, and you're done.
For my latest concoction, I decided to feature blueberries and peaches in the crumble itself, but what I actually did was cut up a bunch of strawberries and plums to use as a cold, fresh bottom layer. You don't have to take that extra step, but I like the contrast of cold fruit on the bottom, warm crumble in the middle, and cool whipped cream on top. Vanilla ice cream also works wonderfully if you have some on hand. Or, you can forego the extras and enjoy this crumble on its own.
Here's to a summer full of fresh fruit and delicious fruit-centric recipes.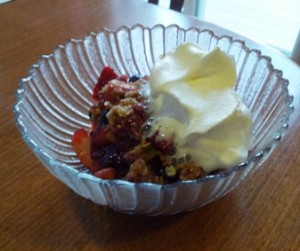 Blueberry and Peach Crumble
Ingredients:
For the fruit mixture:
1 cups blueberries
1 cup peaches, peeled and sliced (about 2 large or 3 medium peaches)
1 tablespoon lemon juice
1/2 cup granulated sugar
1 and 1/2 tablespoons AP flour
For the topping:
1/4 cup AP flour
1/4 cup oats (instant should work just fine)
1/4 cup dark brown sugar
2 tablespoons granulated sugar
1/2 teaspoon cinnamon, or 1/4 teaspoon cinnamon and 1/4 teaspoon nutmeg – whichever flavor profile you prefer
Pinch of salt to taste
1 teaspoon ground cinnamon
3 tablespoons room temperature butter cut into small pieces
Method:
1. Preheat your oven to 350 degrees.
2. To make the fruit mixture, combine the blueberries and peaches in a medium-sized oven-safe bowl (Pyrex works well). Toss with lemon juice, sugar, and flour until the fruit is well-coated. Let the mixture sit for about 20-30 minutes before topping.
3. To make the topping, whisk together the flour, oats, sugars, salt, and cinnamon in a medium bowl. Using your fingers, mix in the pieces of butter until the mixture comes together and takes on a crumbly consistency. To make this step easier, before you get started handling the butter, try coating your fingers with a little cooking spray. You'll have less trouble working with the mixture once it gets sticky. Once the crumble comes together, sprinkle it evenly over the fruit.
4. Place the bowl with the now-assembled fruit crisp on a larger baking sheet. Bake for 35-45 minutes, or until the top starts to brown and you can see the fruit mixture bubbling on the sides. Serve warm with whatever accompaniments you prefer.
5. Store leftovers, if any, in the fridge, and eat within a day or two. This recipe is designed to serve four people, but you can easily double or triple it if you're looking to feed a larger crowd.