I know I've already gone on and on about how much I absolutely love the flavors of fall, so bear with me as I say it once again, this time in the form of praise for these allspice muffins. If you're a fan of cinnamon, sugar, and warm, buttery crumb-topped muffins, go ahead and make yourself a batch of these.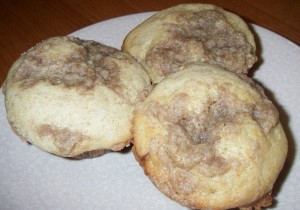 Allspice Crumbs Muffins
Recipe from Eva Bakes
Ingredients:
For the crumb topping:
½ cup AP flour
½ cup light brown sugar
½ tsp ground allspice
5 tbsp cold unsalted butter, cut into bits
For the muffins:
2 cups AP flour
½ cup granulated sugar
1 tbsp baking powder
½ tsp ground allspice
¼ tsp salt
¼ cup light brown sugar
1 stick unsalted butter, melted and cooled
2 large eggs
¾ cup whole milk
¼ tsp vanilla
Method:
For the crumb topping:
Mix the flour, brown sugar, and allspice in a small bowl. Add the chunks of cold butter and mix with your hands by pinching the mixture between your fingers until you have uneven, pea-sized crumbs. (Tip: To avoid having the mixture stick to your hands, try coating your fingers with a bit of cooking spray.)
Place the topping in the refrigerator until ready to use (it can be made up to 3 days ahead and stored, covered, in the fridge).
For the muffins:
Preheat your oven to 375 degrees and line a muffin pan with 12 muffin cups.
In a large bowl, whisk together the flour, granulated sugar, allspice, baking powder, and salt. Add in the brown sugar and stir until no lumps remain.
In a separate large bowl, mix together the melted butter, eggs, milk, and vanilla until well-combined. Pour the liquid ingredients into the dry ingredients, whisking gently but quickly to combine. The batter may be lumpy, and that's okay.
Evenly distribute the batter into the muffin cups. Sprinkle the crumb topping over each muffin, and then use your fingertips to gently press the crumbs into the batter.
Bake for about 20 minutes, or until the tops are golden and an inserted toothpick comes out clean.
Let the muffins cool in their pan for about five minutes before transferring them to a wire rack to cool completely.
Although these muffins can supposedly last up to five days when stored in an airtight container at room temp, I found that they started to dry out after two or three days. My advice is to cut the recipe in half if you don't think you'll finish yours within a couple of days. Yes, it may seem like a lot of work for such a small amount of muffins, but trust me, these are well worth it.