Sometimes a plain old brownie just doesn't cut it. Or at least that was my way of thinking when I decided to go for something a little more jazzed-up on the brownie front.
These brownies are awesome and delicious. You get a buttery shortbread crust, a gooey caramel layer, and a soft, chewy brownie on top. What more could you want? The only downside is that they do take a bit of time to prepare, as there are multiple steps involved. (I made these over the weekend…no way do I have time for multi-step baking during the week.) But if you have the time, and the patience (which is just as important), do yourself a favor and bake up a batch of these beauties. Have I mentioned how utterly delicious they are?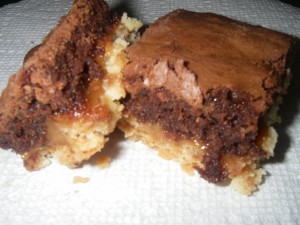 Shortbread Caramel Brownie Bars
From myrecipes.com
Ingredients:
1 and 1/2 cups (3/4 lb.) butter
2 and 1/2 cups AP flour
1 and 1/4 cups sugar
2 tablespoons cornstarch
12 ounces individually wrapped soft caramels, such as Kraft
1/4 cup whole milk
10 ounces of bittersweet or semisweet chocolate, finely chopped
3 large eggs
1 tablespoon vanilla
1/2 teaspoon baking powder
1/4 teaspoon salt
Method:
To make the crust:
1. Preheat your oven to 325 degrees.
2. Cut up 1 cup of butter into chunks.
3. In the bowl of a food processor, combine 2 cups of flour, 1/2 cup of sugar, cornstarch, and the butter chunks.
4. Process until the dough comes together and press it evenly over the bottom of a buttered 9×13 baking pan.
5. Bake for about 25 minutes, or until the crust starts to brown.
6. Remove from oven and let cool completely before adding the next layer.
To make the caramel layer:
1. Unwrap your caramels and place them in a microwave-safe bowl with the milk.
2. Cook in a microwave oven on full power for one minute. Stir the mixture, then cook and stir at 30-second intervals until melted and smooth, about 3 minutes longer.
3. Spread caramel mixture evenly over cooled crust and chill until firm, about 20 minutes.
To make the brownies:
1. Preheat your oven to 350 degrees.
2. Pour chocolate and remaining 1/2 cup butter into a large bowl set over a pan of barely simmering water (bottom of bowl should not touch water). You can also use a double boiler. Stir the mixture until melted and smooth.
3. With a whisk or a mixer on medium speed, beat in remaining 3/4 cup sugar, eggs, and vanilla until well-blended.
4. Stir in remaining 1/2 cup flour, baking powder, and salt until well-blended.
5. Pour chocolate mixture over caramel layer and use a knife or spatula to spread level, completely covering caramel.
6. Bake for 35 to 40 minutes, or until an inserted toothpick comes out clean.
7. Cool completely before cutting into bars.