I just love caramel apples. I don't have them often, but they're definitely one of my all-time favorites fall treats. The problem with caramel apples, however, is that every time I eat one, I spend way too much worrying that I'm about to lose a tooth or three just by biting in. That's why I think these caramel apple toffee bars are such a wonderful idea. They basically offer the same delicious taste of caramel apples without the potential dental repercussions. And while they do lack the crunch and texture that only an actual apple could offer, the toffee bits help make up for that slightly, especially when sprinkled generously on top.
Best of all, these bars are really easy to make, and they taste even better when warmed up and served with a bit of vanilla ice cream. If you're a fan of caramel apples, be sure to add these to your to-do list.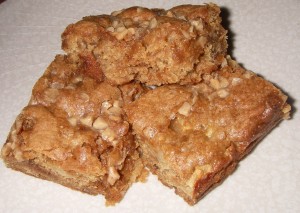 Caramel Apple Toffee Bars
Ingredients:
2 cups AP flour
2 tsp baking powder
1/4 tsp salt
2 tsp cinnamon
1/4 tsp nutmeg
1/2 cup butter, melted and cooled to room temp
3/4 cup packed dark brown sugar
3/4 cup white sugar
2 eggs
1 tbsp vanilla
2 cups diced and peeled apples
1 cup toffee bits, divided into 3/4 cup and 1/4 cup
1 cup caramel sauce (store-bought is fine, or you can make your own by combining about 15 Kraft caramels with two tablespoons of milk and melting in the microwave)
Method:
1. Preheat your oven to 350 degrees. Grease a 9×13 baking pan and set aside.
2. In medium bowl, whisk together the flour, baking powder, salt, and spices.
3. In a large bowl, combine the sugars and butter. Whisk thoroughly until well-combined.
4. Add eggs, one at a time, beating or whisking well to combine. Add vanilla extract and mix thoroughly.
5. Fold in the flour mixture a little bit at a time until just combined. Stir in apples, caramel sauce, and 3/4 cup toffee bits.
6. Pour the batter into your prepared pan. Sprinkle remaining 1/4 cup of toffee bits on top.
7. Bake for 30 minutes, or until an inserted toothpick comes out clean. The bars will/should be soft.
8. Remove the bars from the oven and let them cool completely (at least two hours) before slicing and serving.