There's just something about the marriage of chocolate and peanut butter that works wonders for my taste buds. I've made countless desserts featuring this classic combination, and I have to say, these bar cookies are definitely among my favorite.
First of all, they're just so incredibly easy to prepare, and you get a lot of bars for not a lot of work. Second, they're chewy and flavorful without being overwhelmingly sweet or rich. The original recipe calls for regular unsweetened cocoa, but I've been on a dark chocolate kick, so I decided to use mostly dark cocoa for my batch.
If you have about 15 spare minutes tonight (which, trust me, I know some of you don't), go ahead and make these. Then pour yourself a tall glass of cold milk and enjoy each wonderful bite.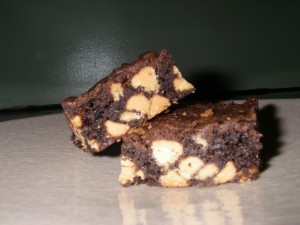 Chewy Dark Chocolate Cookie Bars With Peanut Butter Chips
Recipe from Hershey's
Ingredients:
2 and 1/2 sticks butter, softened
2 cups sugar
2 eggs
2 tsp vanilla extract
2 cups AP flour
3/4 cup unsweetened cocoa (I used about 1/3 cup regular and Hershey's Special Dark for the rest)
1 tsp baking soda
1/2 tsp salt
1 and 2/3 cups peanut butter chips
Method:
1. Preheat your oven to 350 degrees and grease a 9 x 13 baking pan.
2. Beat the butter and sugar until light and fluffy.
3. Add eggs and vanilla; beat well.
4. Stir together your flour, cocoa, baking soda and salt; gradually blend into butter mixture.
5. Stir in peanut butter chips.
6. Spread the batter into the prepared pan (it will be somewhat stiff).
7. Bake for 25-30 minutes, or until an inserted toothpick comes out clean.
8. Cool the bars completely in their pan on a wire rack before cutting into them.