Wow. That title is quite a mouthful. But I figure the best way to describe these delicious, decadent bars is to disclose everything I put in them right off the bat.
It all started a couple of days ago, when I found myself craving a thick, chewy chocolate chip cookie bar. (Don't get me wrong – I love cookies. But I happen to be an even bigger fan of the cookie bar.) I thought about making a batch, but when I started digging through my pantry in search of semisweet chocolate chips, I was shocked to find that I was completely out. I did, however, spot a few bags of toffee bits, and hence the idea was born.
What you've got here is a classic chocolate chip cookie base that features toffee pieces instead of chocolate chips. Then, in the middle, you've got a soft layer of salted caramel that adds the perfect amount of contrast to an otherwise sweet concoction. And then, to top it all off, you've got a nice layer of milk chocolate ganache – just in case you were missing the chocolate.
These babies are everything a cookie bar should be: chewy, somewhat gooey, rich, and just plain yummy. Don't be intimidated by the fact that this recipe has multiple steps. Each one is fairly simple, and the bars don't take very long to set up. You can easily start this recipe at some point in the morning and have a nice supply of cookie bars handy for an afternoon snack.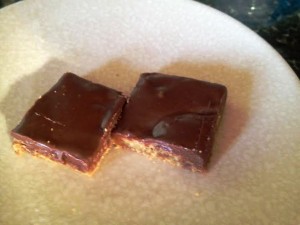 Salted Caramel Toffee Chip Cookie Bars With Milk Chocolate Ganache
Ingredients:
For the cookies:
2 cups AP flour
1/2 teaspoon baking soda
12 tablespoons (1 and 1/2 sticks) unsalted butter
1 cup light brown sugar
1/2 cup granulated sugar
3/4 teaspoon salt
2 eggs
2 teaspoons vanilla
1 and 1/2 cups toffee bits (alternatively, you can chop up some Heath bars or substitute for chocolate chips if you prefer)
For the salted caramel:
1 cup Kraft caramels, unwrapped (other brands are fine, of course, but Kraft tends to be the easiest to find in my neck of the woods)
2 tablespoons heavy cream
1 and 1/2 teaspoons course sea salt
For the milk chocolate ganache:
6 ounces milk chocolate, finely chopped
1 tablespoon confectioners sugar
1/4 cup heavy cream
Method:
Preheat your oven to 325 degrees. Grease a 9×9 baking pan and set aside.
Whisk together the flour, baking soda, and salt; set aside.
Cream the butter and sugars until well-combined. Add the eggs and vanilla; mix until well-blended.
Add in the dry ingredients in two to three batches, mixing at a low speed until just combined. Stir in the toffee bits.
Combine the caramels and heavy cream and heat in the microwave in 30-second increments until melted. (Make sure to stir the mixture in between each zap.)
Press half of the cookie dough into your prepared pan.
With an offset spatula, spread the caramel sauce over the bottom cookie dough layer. Sprinkle the sea salt evenly over the caramel. Then, press the remaining cookie dough over the caramel layer.
Bake for about 30 minutes, or until the top of the bars start to turn light golden brown. Cool the bars in their pan for about 90 minutes at room temperature. Then, place the bars in the refrigerator while you make the ganache.
To make the ganache, combine the chocolate and confectioners sugar in a small bowl. In a small saucepan, heat the heavy cream until it gets hot without bubbling too much. Pour the hot cream over the chocolate and sugar, and stir or whisk until the mixture turns smooth and glossy.
Remove the bars from the fridge. Use an offset spatula to evenly spread the ganache over the tops of the bars.
Return the pan to the fridge for 30-60 minutes to set. You may want to cut them while they're slightly cold, but not straight out of the fridge. I like these bars at room temperature, or even slightly warmed. And you can't go wrong throwing a few of them in a bowl, heating them up, and topping them off with a nice scoop of vanilla ice cream.