Living in the Northeast means you have to expect snowstorms at least once in awhile. Today is apparently one of those days. They're calling the impending storm a weather event of epic proportions,  or something ridiculously dramatic along those lines. I mean, I get it: You want people to be prepared. And that's fine. But I just find it a touch annoying that every storm that rolls around these days is hailed as the biggest, baddest version  of anything we've ever known.
Now, having gotten that rant out of the way, I will say that it looks like we'll be stuck at home for the next day or so. And based on previous experiences, we can't really rule out the possibility of a power outage. See, most people's power companies are equipped to handle weather-related outages. Mine isn't. So generally, when the power goes out, it stays out for awhile. And while we did invest in a generator, we can only use it to power so many appliances at a time—which means if we do wind up with an outage, my ability to bake will be seriously hampered. And since I obviously can't risk being cooped up for the weekend without an ample supply of sweets on hand, I decided to take a few minutes to whip up a batch of brownie goodness.
These brownies are, simply put, super yummy. They're definitely dense and intense, but they're not quite as sweet as your average brownie. I like how the coffee flavor really comes out and complements the rich dark chocolate without being too overpowering. And these are definitely the kind of brownies that would go well with a nice scoop of vanilla or coffee ice cream. So if you're expecting to be stuck indoors this weekend, take 15 minutes out of your evening (yes, that's really all you need to throw these together, including cleanup) and bake yourself some brownies. Then go grab a blanket, queue up your favorite movie, and enjoy some delightfully delicious downtime. You can worry about clearing out your driveway tomorrow.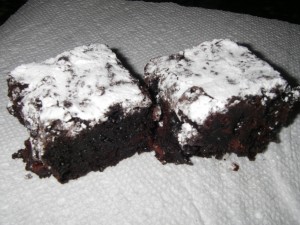 Blizzard Brownies (or, for some context, Intense Dark Chocolate Brownies)
Ingredients:
1 cup AP flour
2/3 cup unsweetened dark cocoa powder (I used Hershey's Special Dark)
1 and ½ cups granulated sugar
½ cup confectioners sugar,plus more for dusting
1 tablespoon instant coffee
¾ teaspoon salt
3 large eggs
1/3 cup vegetable oil
1 tablespoon water
1 tablespoon milk (I used skim)
½ cup dark chocolate chips (again, I used Hershey's Special Dark)
½ cup semisweet chocolate chips
Method:
1.    Preheat your oven to 350 degrees. Grease an 8×8 baking pan and set aside.
2.    In a large bowl, mix the flour, cocoa powder, sugars, instant coffee, and salt.
3.    Add in the eggs one at a time, and mix well (I recommend using a spoon instead of a whisk—the batter will be quite thick at this point, and it may be easier to work with a spoon).
4.    Add in the oil, water, and milk, and mix well.
5.    Stir in the chocolate chips.
6.    Pour the mixture into your prepared pan and bake for 35 to 40 minutes, or until an inserted toothpick comes out clean. Wait about 20 minutes and then dust with confectioners sugar.
7.    Let the brownies cool completely before cutting into them. Or, if you're me, reject the notion of self-control and grab yourself a warm, gooey bite shortly after they come out of the oven. Either way works, I suppose.