One of my favorite things about October is the abundance of seasonal pumpkin items available in stores. Case in point: Pumpkin Spice M&Ms. From what I hear, these babies can only be found at Target, and even though they're not overwhelmingly pumpkin-flavored, they're worth picking up for the color scheme alone. I decided to incorporate them into an oatmeal bar, and that actually really worked to bring out the pumpkin taste.
Believe it or not, these bars aren't as sweet as your typical brownie or blondie, even with the candy pieces incorporated throughout. I really happen to enjoy the combination of pumpkin and chocolate, so in my book, these are a hit (and my coworkers, who helped me polish off the batch, seemed to agree).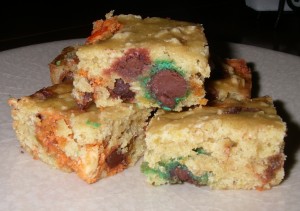 Pumpkin M&M Oat Bars
Ingredients:
1 and 1/2 cups AP flour
1 teaspoon baking soda
1 teaspoon salt
1/2 teaspoon cinnamon
1/2 cup unsalted butter, melted
1 cup pumpkin
1 cup light brown sugar
3/4 cup granulated sugar
2 teaspoons vanilla extract
2 eggs
1 cup old fashioned rolled oats
1 cup Pumpkin Spice M&Ms (if you can't find these, dark chocolate chunks or semisweet chocolate chips should work just as well; you can even use regular old M&Ms)
Method:
Preheat your oven to 350. Grease a 13×9 baking pan and set aside.
In a medium bowl, whisk together the flour, baking soda, salt, and cinnamon.
In a separate bowl, beat the butter and sugars until smooth.
Whisk or beat in the egg and vanilla, and mix until light and fluffy.
Stir in the flour and oats, mixing until well-combined.
Stir in the M&Ms.
Pour the batter into your prepared pan and bake for 35-40 minutes, or until an inserted toothpick comes out clean. Let the bars cool in the pan for at least an hour before slicing and serving.