As excited as I am about the abundance of apples this time of year, there's another fruit that I've also gotten pretty stoked about lately: the pear. I wasn't always a huge fan of pears, but over the past year I've grown to really like them. And now that pears are in season, I've been trying to take advantage by incorporating them into my fall baking routine. To that end, I recently whipped up this wonderfully delicious pear bread.
If you enjoy pears, I highly recommend making this pear bread, which, really, might as well be called pear cake. The recipe couldn't be easier to follow and the end result is a moist, light bread (er, cake) that's perfect for breakfast or an afternoon snack. Actually, you could eat this anytime of the day. Have it for dinner, in fact. I won't judge you…especially since that's what I did a few nights ago.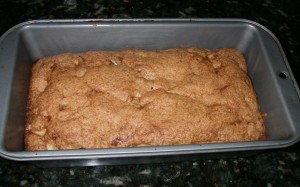 Pear Bread
Recipe from Bake or Break
Ingredients:
3 cups AP flour
1 teaspoon baking soda
1/4 teaspoon baking powder
1 teaspoon salt
1 tablespoon ground cinnamon
1 cup chopped pecans
3/4 cup vegetable oil
3 large eggs, lightly beaten
2 cups granulated sugar
2 cups peeled and finely grated ripe, firm pears
2 teaspoons vanilla extract
Method:
Preheat your oven to 350 degrees. Lightly grease and flour a two 9×5 loaf pans.
Mix together the flour, baking soda, baking powder, salt, and cinnamon. Scoop out about 1/4 cup of this mixture and combine it with the pecans to coat, and then stir back into the flour mixture.
In a separate bowl, combine the oil, eggs, sugar, pears, and vanilla. Add the pear mixture to the flour mixture, stirring just until the flour disappears and the batter is evenly moistened.
Pour the batter into your prepared pans and bake for 60-70 minutes, or until the bread is browned and firm on top and an inserted toothpick comes out clean.
Cool completely before cutting and serving.