Sometimes you have days where you've just got to have peanut butter. There's no question about it. Yesterday was one of those days. After being cooped up during yet another snowstorm, I needed some peanut butter in my life, pronto. Enter these blondies. They're only slightly different from the ones I made a few months back, but I like the playful color the Reese's Pieces bring to the mix. Also, the candy coating from the Reese's adds some crunch to an otherwise soft, chewy, and delicious blondie bar. If you're craving peanut butter and stuck indoors, be kind to yourself and make a batch of these.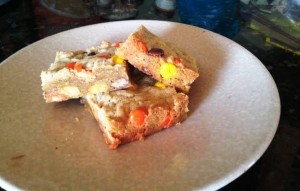 Peanut Butter Blondies With Reese's Pieces
Ingredients:
1/4 cup (1/2 stick) butter, melted and cooled to room temp
1/4 cup peanut butter (smooth or chunky)
1/2 cup light brown sugar
1/2 cup granulated sugar
1 egg
1 tsp vanilla
1 cup AP flour
1/2 tsp salt
1 and 1/2 cups Reese's Pieces
Method:
Preheat your oven to 350 degrees. Grease an 8×8 baking pan and set aside.
In a medium bowl, whisk together the melted butter, peanut butter, and sugars until well-combined.
Beat in the egg (you can use a whisk or a fork for this) and vanilla; mix until well-incorporated.
Stir in the flour and salt, mixing well.
Stir in the Reese's Pieces.
Pour your batter into the prepared pan and bake for 22-25 minutes, or until an inserted toothpick comes out clean.
Let the blondies cool in the pan (at least one hour) before slicing and serving.