Remember those awesome blueberry crumb bars I made a few days ago? They were so delicious I just had to try a strawberry version. The great thing about this recipe is that it's fairly easy and pretty adaptable to your favorite fruit. You could try it with raspberries, peaches…the list goes on and on.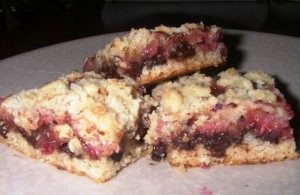 Strawberry Crumb Bars
Recipe slightly adapted from Smitten Kitchen
Ingredients:
1 and ½ cups granulated sugar, divided into 1 cup and ½ cup
1 teaspoon baking powder
3 cups AP flour
1 cup (2 sticks) cold unsalted butter
1 egg
1/4 teaspoon salt
3 tablespoons orange juice (I used fresh-squeezed from an orange, but any type of OJ will work just fine; you could also use lemon juice if you prefer that flavor profile)
4 cups fresh strawberries, chopped into small pieces
1 cup semisweet chocolate chips, optional
4 teaspoons cornstarch
Method:
1. Preheat your oven to 375 degrees. Grease a 9×13 inch pan and set aside.
2. In a medium bowl, stir together 1 cup of the sugar with the flour, baking powder, and salt.
3. Use a fork or pastry cutter to blend in the butter and egg. (Note: This might take awhile, but keep working at it—you want to make sure the butter gets nice and blended.) Your dough will be crumbly.
4. Pat half of the dough into your prepared pan.
5. In another bowl, stir together the sugar, cornstarch, and orange juice. Gently mix in the chopped strawberries and chocolate chips, if you're using them. Sprinkle the strawberry mixture evenly over the crust, and then crumble the remaining dough over the berry layer.
6. Bake for about 45-55 minutes, or until the top gets slightly brown and an inserted toothpick comes out relatively clean.
7. Let the bars cool completely in the pan before cutting in. Two hours should do it.