Yesterday I went apple picking for the first time this season, and while it was a touch early for some of the varieties I like to have on hand, I managed to stock up on one of my all-time favorites: the McIntosh. There's just something about McIntosh apples that I really like. I could sit there and munch on them all day, especially if I have a nice jar of peanut butter on hand. But if there's one thing I absolutely love about McIntosh apples, it's the fact that they're the perfect addition to many of my favorite fall baking recipes, including these apple spice bars.
This recipe really embraces all the wonderful flavors of fall. You've got cinnamon, nutmeg, and brown sugar combining with fresh, juicy apples to form one of the most perfect concoctions you could ever imagine. If you decide to make them, do yourself a favor and spend some time in your kitchen while these babies are baking up. You'll be overwhelmed by the warm, comforting aroma of spices as you stand there anticipating how good they'll taste fresh out of the oven.
Of course, you'll need to wait a little while to let your bars cool. And you should be warned that once they're ready, you may have a hard time eating just one. I find that these soft, moist cake bars pair perfectly with a nice warm beverage, be it a strong cup of coffee or a mug of chai or herbal tea. And if you happen to be lucky enough to taste them while they're still slightly warm, you'll pretty much be in heaven.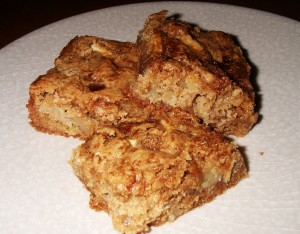 Apple Spice Bars
Recipe very slightly adapted from Beantown Baker
Ingredients:
2 cups AP flour
2 tsp baking powder
1/4 tsp salt
2 tsp ground cinnamon
1/4 tsp nutmeg
1/4 tsp allspice
1/2 cup butter, melted and cooled to room temp
1 cup packed dark brown sugar
1 cup white sugar
2 eggs
1 tbsp vanilla
2 cups diced and peeled McIntosh apples
Brown sugar for topping, optional
Method:
1. Preheat your oven to 350 degrees. Grease a 9×13 baking pan and set aside.
2. In medium bowl, whisk together the flour, baking powder, salt, and spices.
3. In a large bowl, combine the sugars and butter. Whisk thoroughly until well-combined. (Note: The original recipe suggests using a stand mixer. I didn't want to bust mine out, and the power whisk method worked just fine for me.)
4. Add eggs, one at a time, beating or whisking well to combine. Add vanilla extract and mix thoroughly.
5. Fold in the flour mixture a little at a time until just combined. Stir in apples and mix well.
6. Spread the batter into your prepared pan and sprinkle the top with brown sugar.
7. Bake for 30 minutes, or until an inserted toothpick comes out clean. The top should be very slightly browned and springy.
8. Remove the bars from the oven and let them cool completely in their pan. Since they're very soft, I recommend being patient and waiting a good two hours before cutting and serving. However, feel free to keep walking over and smelling them as they cool. It'll be somewhat torturous, but trust me, the aroma is all part of the experience.