Corn muffins have been a staple at my Thanksgiving table for the past number of years. I always make too many for the actual meal, which means I have plenty of leftovers on hand for breakfast the following week.
This recipe is fairly simple and makes at least 24 muffins. Feel free to cut it in half if you don't want that many.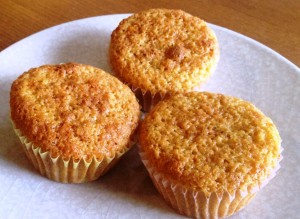 Corn Muffins
Ingredients:
2 cups yellow cornmeal
2 cups AP flour
2 tbsp baking powder
1 cup granulated sugar
2 tsp salt
1 tsp pepper
2 cups milk (feel free to substitute with soy milk or non-dairy creamer for a dairy-free version)
4 large eggs
2/3 cup vegetable oil
1 cup honey
Method:
Preheat your oven to 400 degrees. Line two muffin pans with liners (the recipe will yield about 24 muffins).
In a large bowl, whisk together the cornmeal, flour, baking powder, sugar, salt, and pepper.
In a separate bowl, whisk together the milk, eggs, oil, and honey.
Stir the wet ingredients into the dry mixture until just combined.
Pour the batter into your prepared muffin pans and bake for 18-20 minutes, or until the tops start to turn golden brown and an inserted toothpick comes out clean.
Let the muffins cool in the pans for 1-2 minutes and then transfer them to wire racks to cool completely.