Peppermint bark is truly a staple item for me during the winter, right up there with hot cocoa and warm soup. Although there are several tasty store-bought versions of this classic treat, I usually like to whip up at least one homemade batch per season. In fact, I made my peppermint bark back in late December but am only first getting around to sharing the recipe and photos now. Blame my job, life, etc…
The great thing about homemade peppermint bark is that you can control the ratios of dark chocolate to white chocolate to peppermint to suit your taste. And it's also way cheaper to make this stuff yourself than to buy it from your average retailer (though I'll give you a little tip: Costco sells peppermint bark for a very reasonable price; the only problem is that it's only available around the holidays). So go ahead: Make yourself a batch of peppermint bark and enjoy the fruits of your labor for several weeks to come (or days, if your self-control is similar to mine, as in non-existent).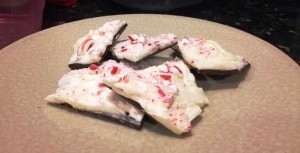 Peppermint Bark
Ingredients:
10 ounces dark chocolate
10 ounces white chocolate
3/4 cup crushed candy cane bits, divided into two equal parts (more or less)
1/4 tsp peppermint extract
Method:
Line a baking sheet with parchment paper.
Using either a microwave or a double boiler, melt the dark chocolate until smooth. If you go the microwave route, zap your chocolate at 50% power and in 30-second increments, stirring well in between each round.
Quickly pour half of the crushed candy cane bits into the melted dark chocolate, and stir.
Add in peppermint extract, and stir again. Then, pour the dark chocolate mixture onto your prepared baking sheet and use a spoon or offset spatula to spread it out as needed.
Place the baking sheet in the fridge for one hour.
After an hour, remove the baking sheet and let it sit at room temperature while you melt your white chocolate.
Using one of the above methods, melt the white chocolate until smooth.
Use a spoon or offset spatula to spread the white chocolate over the dark chocolate-peppermint layer. Sprinkle remaining candy cane bits over white chocolate layer, using your fingers to press some of the bigger pieces in as needed.
Place the baking sheet back in the fridge for an additional hour to allow the peppermint bark to set.
This stuff keeps for quite some time in the fridge, and at room temperature my recent batch lasted about a week. It would've lasted even longer had I been able to control myself, but yeah, that didn't happen.