Sometimes I just really find myself in the mood for peanut butter. Does that ever happen to you? And when I find myself craving peanut butter, it's like there's nothing else in the world that could possibly take its place.
I had one of these cravings sneak up on me the other day, and so I decided to whip up some easy peanut butter blondies. This recipe can be thrown together really quickly, and it's one of those that you can seamlessly double to feed a larger crowd. I love the contrast of the crunchy peanuts and chocolate chips against the perfectly soft blondie base. And while milk chocolate chips worked great in the batch I made, next time I may go for dark chocolate for a slightly different taste. And yes, there will have to be a next time. These blondies are just that good.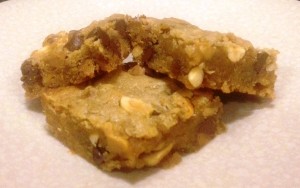 Peanut Butter Blondies
Ingredients:
1/4 cup (1/2 stick) butter, melted and cooled to room temp
1/4 cup peanut butter (I used smooth but chunky will work as well)
1 cup light brown sugar
1 egg
1 tsp vanilla
1 cup AP flour
1/2 tsp salt
1/2 cup peanuts (I used roasted), chopped
1/2 cup milk chocolate chips
1/2 cup peanut butter chips
Method:
Preheat your oven to 350 degrees. Grease an 8×8 baking pan and set aside.
In a medium bowl, whisk together the melted butter, peanut butter, and brown sugar until well-combined.
Beat in the egg (you can use a whisk or a fork for this) and vanilla; mix until well-incorporated.
Stir in the flour and salt, mixing well.
Stir in the peanuts, milk chocolate chips, and peanut butter chips.
Pour your batter into the prepared pan and bake for 22-25 minutes, or until an inserted toothpick comes out clean. Try to be careful not to overbake these – you want them nice and soft.
Let the blondies cool in the pan (at least one hour) before slicing and serving.