I've been on a pretty big pumpkin and apple kick lately, so I was surprised to find myself craving something peanut buttery the other day. Fortunately, these monster bars did the trick, and they gave me an excuse to finally use up the open bag of M&Ms that was sitting around taking up space in my pantry.
These bars are really easy to make, and because they're so colorful and fun-looking, they're a great thing to bring to parties or potlucks. They also freeze pretty well, so if you're not like me and can't finish an entire pan in a few days' time, storing them that way is also an option.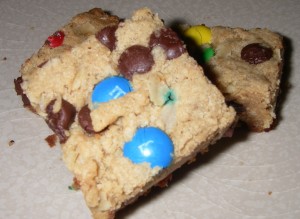 Monster Cookie Bars
Recipe from The Baker Mama
Ingredients:
1 and 1/2 cups AP flour
1 teaspoon baking soda
1 teaspoon salt
1/2 cup (1 stick) unsalted butter, softened
1 and 1/2 cups peanut butter
1 cup light brown sugar
1 cup granulated sugar
2 teaspoons vanilla extract
2 eggs
1 cup rolled oats (the old-fashioned kind, not the quick kind)
1 cup semisweet chocolate chips
1 cup M&Ms
Method:
Preheat your oven to 350. Grease a 13×9 baking pan and set aside.
In a medium bowl, whisk together the flour, baking soda, and salt.
In a separate bowl, beat the butter and peanut butter until smooth.
Add the sugars and beat until well-blended.
Add the vanilla and eggs and mix until light and fluffy.
Gradually incorporate the flour mixture into the wet mixture until just combined.
Mix in the oats until well-combined.
Stir in the chocolate chips and M&Ms.
Press the dough into your prepared pan and bake for 30 minutes, or until an inserted toothpick comes out clean. Let the bars cool in the pan for an hour or so before slicing and serving.
When stored in an airtight container, these bars should keep for a good 4-5 days. Or, as mentioned above, you can easily freeze your leftovers.