Do you like M&Ms? I do. In fact, I think they're wonderful. And while I'm definitely happy to eat them on their own, there's just something about the presence of M&Ms in baked goods that makes me feel like a kid again.
It had been awhile since I'd made cookies, so I decided to try this recipe for M&M cookies. The process was fairly quick and easy, and the cookies came out tasting really yummy in the end. My only gripe is that they didn't wind up as soft and chewy as I would've liked—but I blame myself for that, not the recipe.
If you're looking for a fun cookie recipe to try, give this one a shot. Even if your cookies end up a little more on the crispy side like mine did, you'll probably still get plenty of takers when you offer them up. I even caved and let the baby have a bite of one. Not shockingly, he loved it.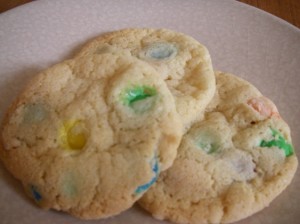 M&M Sugar Cookies
Recipe from Tracey's Culinary Adventures
Ingredients:
2 and 1/4 cups AP flour
1 teaspoon baking powder
1/2 teaspoon baking soda
1/2 teaspoon salt
1 and 1/2 cups sugar, plus 1/3 cup for rolling
2 oz cream cheese, cut into 8 pieces
6 tablespoons unsalted butter, melted and still warm
1/3 cup vegetable (or canola) oil
1 large egg, at room temperature
1 tablespoon milk
2 teaspoons vanilla extract
1 and 1/4 cup M&Ms
Method:
1. Preheat your oven to 350 degrees. Line 2 or 3 baking sheets with parchment paper (see note below).
2. In a medium bowl, whisk together the flour, baking powder, baking soda, and salt.
3. Combine 1 1/2 cups of sugar and cream cheese in a large bowl (no need to stir them together yet).
4. Put the remaining 1/3 cup sugar in a pie plate and set aside.
5. Pour the warm butter over the cream cheese mixture and whisk to combine. The mixture won't be completely smooth yet, and that's okay.
6. Whisk in the oil, and then whisk in the egg, milk, and vanilla extract. Mix until smooth.
7. Use a rubber spatula to start folding the dry ingredients into the wet. When the dry ingredients are partially incorporated, add 3/4 cup of the M&Ms to the dough. Continue mixing until a soft dough comes together. (Don't wait to add the M&Ms until the dry ingredients are completely incorporated, or you'll end up over-mixing.)
8. Portion the dough onto the prepared baking sheets with a cookie scoop. Working quickly (if you handle the dough too much, you're more likely to wind up with flat cookies—which is what happened to me), roll the dough into a ball with your hands, and then roll in the sugar set aside in the pie plate. Repeat until you've used all of the dough, placing 12 cookies on each baking sheet. Use the bottom of a glass to flatten the dough balls into discs that are about 2 inches in diameter (or don't, and see if this helps your cookies come out softer and fluffier). Gently press 2 or 3 more M&M's into the top of each cookie.
9. Bake the cookies for 11-13 minutes, or until the edges are set. The tops will be puffy and slightly cracked.
10. Transfer the baking sheet to a wire rack and let the cookies cool on the sheet for 5 minutes; then transfer them to the rack to cool completely.
Note: The original recipe says it'll yield about 24 cookies, but I easily got 36 decent-sized cookies out of this batch.