Clearly I'm not quite done with apples. That's right: You've got another apple recipe coming your way, but I promise it's a good one.
My latest creation combines rich, hearty oats with fresh, hand-picked apples. And while I tend to incorporate a variety of fall spices whenever I bake with apples, for this recipe, I exercised some restraint and limited myself to cinnamon only. The result? An easy-to-make, easy-to-eat snack cake that's perfect for breakfast, dessert, or anytime in between.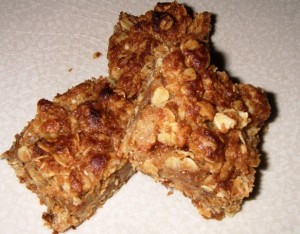 Apple Oat Bars
Ingredients:
For the crust and topping:
1 cup AP flour
1/2 cup dark brown sugar
1/8 cup granulated sugar
1/4 teaspoon salt
1 stick of butter, melted and cooled to room temp
For the apple filling:
1 cup of apples, peeled and chopped
1 tablespoon lemon juice
1 teaspoon cinnamon
Method:
Preheat your oven to 425 degrees. Grease an 8×8 baking pan and set aside.
To make the filling, combine the apples, lemon juice, and cinnamon in a small bowl. Stir to combine and let sit while you make the crust and topping.
To make the crust and topping, in a large bowl, whisk together the flour, sugars, oats, and salt. Stir in the butter and mix well to combine.
Press half of the mixture into your prepared pan. Spread the apple mixture on top of the crust, using the back of a spoon to distribute it evenly throughout the pan. Sprinkle the remaining oat mixture over the apple layer, once again using the back of a spoon to spread it out evenly.
Bake for about 30 minutes, or until the top starts to brown and an inserted toothpick comes out clean.
Let cool completely in the pan for two hours before slicing and serving.