I love family recipes that are so simple but also so good. Case in point: my mom's jam cake.
My mom has been making this cake for as long as I can remember. The great thing about it is that it's super versatile – you can serve this cake as an afternoon cake or have it for breakfast, and it'll fit right in. It's sweet, but not very sweet – in fact, most of the sweetness comes from the filling more so than the actual dough – and it lends itself to a world of variation. It's also a great cake to serve if you need a non-dairy option. While I tend to be a bit of a butter snob and only substitute margarine when absolutely necessary, in this cake the margarine totally works. And if you stick any leftovers you have of this cake in an airtight container, it'll keep for a solid week, if not a touch longer.
Thanks, Mom, for making this cake so many times over the years – 'cause as easy as it is to make, there's just something to be said about home-baked goods that are actually prepared by somebody else.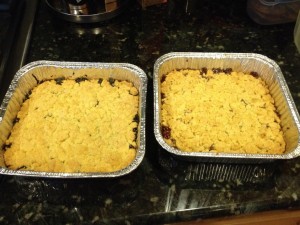 Jam Cake
Ingredients:
2 sticks butter or margarine
3/4 cup granulated sugar
1 large egg
1/2 tsp vanilla
2 and 1/2 cups AP flour
2 and 1/2 tsp baking powder
pinch of salt
1 cup filling of your choice – two of my favorites are prune jam (the same kind I used to make my hamentashen earlier this year) and 1 cup strawberry jam mixed with 1 cup sweetened coconut – but really, feel free to get creative)
Confectioners sugar for dusting, optional
Method:
Preheat your oven to 350 degrees. Lightly grease and flour a 9×13 baking pan, and set aside.
In a large bowl, cream the butter/margarine and sugar until light and fluffy. Beat or whisk in the egg and vanilla.
In a separate bowl, whisk together the flour, baking powder, and salt. Pour the dry ingredients into the wet and mix until well-combined.
Pour half of the batter into your prepared pan.
Using a spoon or offset spatula, spread your filling of choice evenly on top.
Use either a grater or your fingers to crumble the remaining dough over the top of the cake. (I prefer to use my hands. To prevent the dough from sticking to my fingers, what I like to do is coat one hand with a little cooking spray and use that hand to do the actual crumbling while leaving the other hand free to keep applying the spray. I suppose there are less complicated ways to do it, but this one works for me.)
Bake the cake for 40-50 minutes, or until the top starts to turn golden without getting too dark.
Once the cake has cooled completely, you can dust it with confectioners sugar.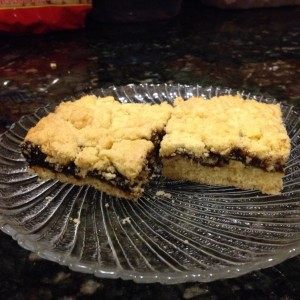 Check out the yummy prune version above.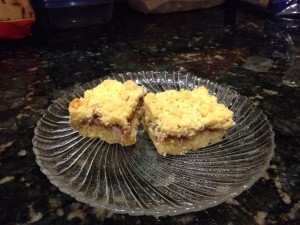 And the strawberry coconut counterpart…