Sometimes it pays to keep things simple flavor-wise. Case in point: the classic peanut butter and jelly combination. Growing up, PB&J sandwiches were a steady part of my school lunch rotation; and while I suppose I enjoyed them, they certainly didn't stand out at the time as anything particularly special. But as I got older, I began to develop a fondness for PB&J. Maybe it's because your coworkers look at you funny when you're sitting around the break room table and they're all eating their tandoori chicken takeout while you're eating something they haven't tasted since 1987. Or perhaps it's because there's just something about the awesome flavor combination that simply brings back memories of being a carefree kid.
Either way, peanut butter and jelly is a winner in my book, so it was only natural take the concept one step further by turning it into dessert. I found this Martha Stewart recipe and decided to give it a go, and the result was a batch of peanut butter and jelly bars that are good enough to make any adult feel like a kid again.
For some reason, these bars took a little longer to make than I initially expected. The peanut butter dough was really thick, and so I had to keep scraping down the sides of my mixer bowl and adjusting the speed up and down. And then it took me awhile to chop up the peanuts and make the crumbly dough topping, but that's partly because for some strange reason, I love the feeling of balled-up dough in between my fingers and probably wasn't in a particular rush to get the process over with.
This recipe makes a nice amount of PB&J bars—which means you'll probably have enough left over to divvy up among your coworkers in exchange for their promise to stop mocking you for your peanut butter and jelly lunches, at least for the foreseeable future.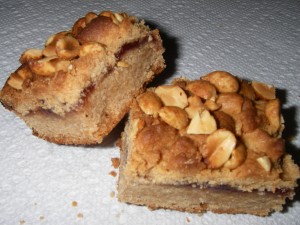 Peanut Butter and Jelly Bars
Recipe from Martha Stewart
Ingredients:
1 cup (2 sticks) of unsalted butter, room temperature, plus more to butter the pan
3 cups of AP flour, plus more for the pan
1 and 1/2 cups granulated sugar
2 large eggs
2 and 1/2 cups smooth peanut butter
1 and 1/2 teaspoons salt
1 teaspoon baking powder
1 teaspoon vanilla extract
1 and 1/2 cups of your favorite jam flavor (I used strawberry and classic grape—I'll explain)
2/3 cup salted peanuts, roughly chopped
Method:
1. Preheat your oven to 350 degrees. Grease a 9-by-13-inch pan with butter, and line the bottom with parchment paper. Grease the parchment, and coat inside of the pan with flour; set aside.
2. Place the butter and sugar in the bowl of an electric mixer fitted with the paddle attachment. Beat the mixture on medium-high until fluffy, about 2 minutes. Add eggs and peanut butter; beat on medium until well-combined (this took me about 3-4 minutes; the original recipe estimates 2).
3. Whisk together the salt, baking powder, and flour. Add dry ingredients to mixture and beat on low-medium speed until well-combined (this took me another 3-4 minutes, alternating between speeds).
4. Add vanilla and mix until incorporated.
5. Transfer 2/3 of the mixture to your prepared pan, and spread evenly.
6. With a spatula, spread jam on top of peanut-butter mixture. **
7. Crumble remaining peanut butter mixture on top of the jam layer, and sprinkle with peanuts.
8. Bake until the tops turn golden, about 45-55 minutes. (The inserted toothpick test doesn't really work here because the jelly layer is always going to be gooey.)
9. Transfer to a wire rack and make sure to cool these completely before cutting into them. I stuck them in the fridge to set for about an hour and then left them out on my counter for another hour before slicing them up—and that totally did the trick.
**I wanted to see what these would taste like with both strawberry and grape jelly, so I decided to put strawberry over half of the base and grape over the other half. While I don't think the two versions taste remarkably different from one another, I do like the way the strawberry version gives you a touch of tanginess while the grape bars really take you back to that classic old-school flavor. I also wound up with a few hybrid bars as a result of the strawberry and grape jellies melting into each other in the middle of the pan during the baking process, but happily, those tasted just as good as their individual strawberry or grape counterparts.