Sometimes things don't go the way we plan in the kitchen. Case in point: these pumpkin pie cookies. Don't ask me what happened, but basically I used the same recipe I do every year (one of my favorites, at that), and this time around my cookies came out looking like miniature pancakes. Thankfully, they still tasted delicious – as in, think pumpkin pie in a moist, cakey cookie form. But they were kind of unattractive to look at, and relatively tricky to transport. So when I found myself with about two dozen extra pancakes – er, cookies, I decided to get creative.
A few days ago I made pumpkin brownies, and so I decided to use that same recipe and incorporate my leftover cookies into the batter. The result? One incredibly awesome combination. In fact, even if your cookies don't come out as pancake-like as mine, you can still crumble up a portion of your batch and bake them into your favorite brownies – that is, if you manage to stop eating them long enough to reserve a few for experimentation.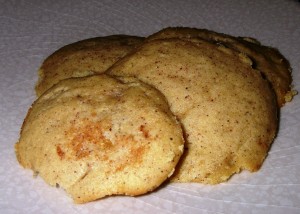 Pumpkin Pie Cookies
Ingredients:
2 cups AP flour
1/2 tsp salt
1 tsp baking soda
1 tsp baking powder
1/2 tsp cinnamon
1/2 tsp nutmeg
1/4 tsp ginger
1/2 cup soft butter
1/2 cup shortening
1 cup granulated sugar
1 cup pumpkin puree
1 large egg
1 tsp vanilla
Method:
Preheat your oven to 350 degrees. Line a few baking sheets with greased foil or parchment paper and set aside.
In a medium bowl, whisk together the flour, salt, baking soda, baking powder, and spices. Set aside.
In a large bowl, cream the butter and shortening until light and fluffy.
Add the sugar, pumpkin, egg, and vanilla, and beat well.
Slowly incorporate the dry ingredients and mix until well-blended.
Scoop into small, round balls, making sure to leave a decent amount of space between each cookie (these babies will spread).
Bake for about 12 minutes, or until the edges of the cookies turn golden brown and the tops start to brown ever so slightly.
Let the cookies cool on the baking sheets for a minute or two, then transfer to wire racks to cool completely. You'll get anywhere from 24 to 36 cookies out of this recipe depending on how big you scoop.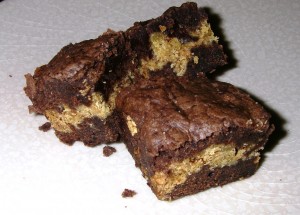 Pumpkin Pie Cookie-Stuffed Pumpkin Brownies
Ingredients:
1 stick unsalted butter, melted and cooled to room temp
3/4 cup granulated sugar
1/2 cup brown sugar (dark or light – either will work)
1 large egg
1 tsp vanilla
1/4 tsp salt
1/2 tsp cinnamon
1 cup plus 3 tablespoons AP flour
1/2 cup unsweetened cocoa powder
1/2 cup pumpkin puree (canned or fresh)
12 pumpkin pie cookies, flattened and/or crumbled up
Method:
Preheat your oven to 350 degrees. Grease an 8×8 pan and set aside.
In a small bowl, whisk together the flour, cocoa powder, salt, and cinnamon. Set aside.
In a large bowl, whisk together the egg, sugars, butter, pumpkin, and vanilla.
Stir in the flour mixture until well-combined.
Pour half of the batter into your prepared pan. Evenly spread the pumpkin pie cookies on top, and then pour remaining brownie batter on top of the cookie layer.
Bake for about 35-40 minutes, or until an inserted toothpick comes out clean. Cool for at least one hour in the pan before cutting and serving.