I know a lot of people like to eat smores during the summer. But for me, smores are a cooler weather type of snack. Don't ask me why. I served these bars at my Thanksgiving dinner, and everybody gobbled them up. I like them best when they're slightly warmed but not super gooey (otherwise the filling starts to ooze out and get everywhere). And they're great on their own or with some vanilla ice cream to top them off.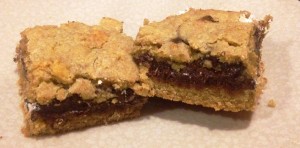 Smores Bars
Recipe from The Gingered Whisk
Ingredients:
1/2 cup butter, at room temperature
1/4 cup dark brown sugar
1/2 cup granulated sugar
1 egg
1 tsp vanilla
1 1/3 cup flour
3/4 cup crushed graham crackers
1 teaspoon baking powder
1/4 teaspoon salt
10 ounces chocolate, chopped (I used semisweet chocolate chips)
1 and 1/2 cup marshmallow fluff
Method:
Preheat your oven to 350 degrees. Grease an 8×8 baking pan and set aside.
Cream the butter and both sugars until light and fluffy. Beat in the egg and the vanilla.
In a separate bowl, whisk together the graham cracker crumbs, flour, baking powder, and salt. Add to the wet batter and mix well. Then divide the batter in half.
Press half of the batter into the bottom of your pan.
Spread the marshmallow fluff on top of the dough. This is easiest if you spray the spatula (or whatever utensil you're using) with cooking spray.
Spread the chocolate on top.
Use your fingers to spread the remaining batter on top. (Coat your fingers with cooking spray to make this easier.)
Bake for 30-35 minutes, or until an inserted toothpick comes out clean.
Let the bars cool in the pan before slicing and serving.