During the summertime, I tend to go nuts over blueberries. I'll eat them on their own or put them in muffins and crisps. And typically, I make this blueberry cake every summer – only this past summer I goofed and never got around to it. So to make up for that, I decided to add this fabulous cake to my Thanksgiving lineup.
This recipe is very easy to make, and you don't even have to worry about blueberries being in season – frozen ones work just fine. You serve this cake for dessert or have it for breakfast. Or do both, like I tend to.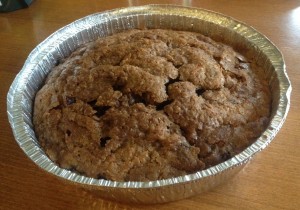 Blueberry Coffee Cake
Ingredients:
For the cake:
2 cups AP flour
2 tsp baking powder
1/2 tsp salt
1/4 cup butter or margarine
3/4 cup granulated sugar
1 large egg
1/2 cup milk
2 cups blueberries (fresh or frozen)
For the topping:
1/4 cup dark brown sugar
1/4 cup granulated sugar
1/4 cup AP flour
1 tsp cinnamon
1/4 cup cold butter or margarine
Method:
Preheat your oven to 375 degrees. Grease a 9-inch round baking pan and set aside.
To make the cake, cream together the butter/margarine and sugar until light and fluffy. Beat in the eggs and milk.
Sift together the flour, baking powder, and salt. Add dry mixture to wet, stirring thoroughly until well-combined.
Fold in the blueberries.
Pour the batter into your prepared pan.
To make the topping, whisk together the sugars, flour, and cinnamon. Use a fork to cut in the butter/margarine until crumbs form.
Sprinkle the topping over the batter – I find that it's easiest to coat your fingers with some cooking spray and use your hands.
Bake the cake for 45-55 minutes, or until an inserted toothpick comes out clean.
Let the cake cool in its pan before slicing and serving.