After having achieved success with the white chocolate blondies I whipped up not so long ago, I decided to take that same recipe but incorporate one of my favorite summertime fruits: blueberries. I love the contrast of the sweet white chocolate and slightly tart, tangy blueberries. These babies were absolutely amazing. I actually got impatient and dug into them when they hadn't fully cooled, which made them kind of gooey—but in a good way. In fact, you could just as easily serve these warm in a bowl, call your concoction a white chocolate blueberry pudding, and top it off with vanilla ice cream for contrast. Yum.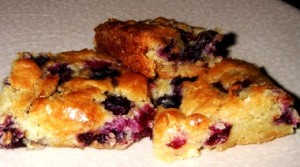 White Chocolate Blueberry Blondies
Ingredients:
1 cup AP flour
½ teaspoon baking powder
½ teaspoon salt
5 tablespoons butter
2 eggs
1 cup granulated sugar
3 teaspoons vanilla
1 cup white chocolate chips or chopped white chocolate
1 cup blueberries (I used fresh but feel free to try frozen)
Method:
1. Preheat your oven to 350 degrees and lightly grease an 8×8 baking pan.
2. In a small bowl, whisk together the flour, baking powder, and salt. Set aside.
3. Using either your stovetop or microwave, combine the butter and white chocolate to melt. If using your stovetop, put butter and white chocolate in either a double boiler or heavy duty saucepan and melt on low heat while stirring frequently. If using the microwave, put butter and white chocolate in a small bowl and melt on 50% power for 30-second increments until butter is melted and white chocolate is mostly melted. Use a fork or whisk to get the chocolate nice and smooth.
4. In a large bowl, whisk together your eggs, sugar, and vanilla. Add in the white chocolate mixture and whisk until smooth and well-combined.
5. Whisk or stir in the flour mixture until incorporated.
6. Stir in blueberries. (Quick note: If you're washing your blueberries on the spot, make sure to pat them dry before adding to batter. You'll want to eliminate as much moisture as possible; otherwise, your blondies may not bake up as well.)
7. Pour batter into prepared pan and bake for 35-40 minutes, or until an inserted toothpick comes out clean. Let the blondies cool completely in the pan before cutting into bars. I recommend waiting a good 90 minutes to make sure they're nice and firm. Worst case, if you're impatient like me, you'll get a gooier "blueberry blondie pudding" if you choose to dig in earlier. And trust me, that's not such a bad thing.