Some people aren't fans of white chocolate. But I am—big time. And since I hadn't baked with white chocolate in awhile, I decided to whip up some easy blondies.
These bars really are a cinch to make. The only tricky part is keeping an eye on the white chocolate while it's melting. Of course, the best way to melt white chocolate is to use a double boiler, but I got lazy/was in a bit of a hurry and chose the microwave method instead. And you know what? These blondies didn't suffer one bit.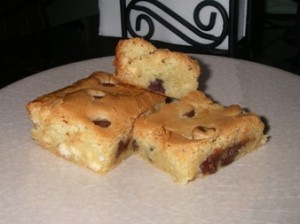 White Chocolate Blondies
Ingredients:
1 cup AP flour
½ teaspoon baking powder
½ teaspoon salt
5 tablespoons butter
2 eggs
1 cup granulated sugar
3 teaspoons vanilla
1 cup white chocolate chips or chopped white chocolate plus another 1/4 cup
½ cup bittersweet or semisweet chocolate chips
Method:
1. Preheat your oven to 350 degrees and lightly grease an 8×8 baking pan.
2. In a small bowl, whisk together the flour, baking powder, and salt. Set aside.
3. Using either your stovetop or microwave, combine the butter and 1 cup of white chocolate to melt. If using your stovetop, put butter and white chocolate in either a double boiler or heavy duty saucepan and melt on low heat while stirring frequently. If using the microwave, put butter and white chocolate in a small bowl and melt on 50% power for 30-second increments until butter is melted and white chocolate is mostly melted. Use a fork or whisk to get the chocolate nice and smooth.
4. In a large bowl, whisk together your eggs, sugar, and vanilla. Add in the white chocolate mixture and whisk until smooth and well-combined.
5. Whisk or stir in the flour mixture until incorporated.
6. Stir in 1/4 cup white chocolate and bittersweet or semisweet chocolate chips.
7. Pour batter into prepared pan. If desired, sprinkle some more of the dark chocolate chips on top.
8. Bake for 25-30 minutes, or until an inserted toothpick comes out clean. Let the blondies cool completely in the pan before cutting into bars.