I'll put pumpkin in just about anything – soup, stew, pasta, you name it. So when I found myself craving chocolate, I decided to whip up a batch of pumpkin brownies.
What I like about these brownies is that they're moist and dense without being overly sweet – we can thank the pumpkin for that. You can easily eat them on their own, but what I like to do is warm them up and serve them with pumpkin ice cream on top. I mean, if you're going to have dessert, you might as well go all out, right?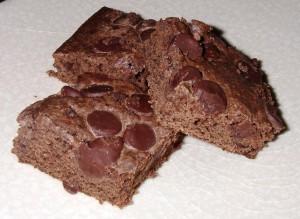 Pumpkin Brownies
Ingredients:
1 stick unsalted butter, melted and cooled to room temp
3/4 cup granulated sugar
1/2 cup brown sugar (dark or light – either will work)
1 large egg
1 tsp vanilla
1/4 tsp salt
1/2 tsp cinnamon
1 cup plus 3 tablespoons AP flour
1/2 cup unsweetened cocoa powder
1/2 cup pumpkin puree (canned or fresh)
1/2 cup dark chocolate chips or chunks (semisweet will also work just fine)
Method:
Preheat your oven to 350 degrees. Grease an 8×8 pan and set aside.
In a small bowl, whisk together the flour, cocoa powder, salt, and cinnamon. Set aside.
In a large bowl, whisk together the egg, sugars, butter, pumpkin, and vanilla.
Stir in the flour mixture until well-combined.
Pour the batter into your prepared pan and sprinkle chocolate chips/chunks on top.
Bake for about 30 minutes, or until an inserted toothpick comes out clean. Cool for at least one hour in the pan before cutting and serving.