Whenever I find myself in an Italian restaurant or bakery, I'm always tempted to order cannolis. But in reality, I don't actually love cannolis. What I love is that delicious cannoli cream. As for the shell, I could take it or leave it. And often, when I get a cannoli, I'll just unroll it and use a spoon to scoop out the cream filling and eat it on its own—a move that 's resulted in much staring and mockery over the years.
When I found myself craving that cannoli cream recently, I decided I wasn't in the mood to drag myself out to a restaurant or bakery. And I certainly wasn't about to start fiddling with cannoli shells, deep fryers, and the like. So instead, I decided to make these mini cannoli pies. I had some individual premade pie shells lying around, and I had everything else I needed on hand to whip up my version of the cream.
Now I'll be perfectly honest and say that my cannoli cream was not as good as some of the better cannolis I've tasted in the area (and living in New Jersey, there are some establishments around here who do know how to make a mean cannoli). But, it was still pretty darn good.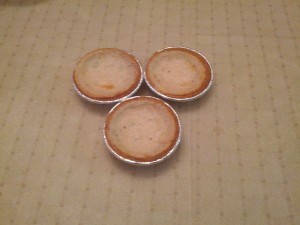 Mini Cannoli Pies
Ingredients:
10 premade mini pie shells (or feel free to make your own)
15 ounces of part-skim ricotta cheese, drained
2 tablespoons heavy cream
1 and ¼ cups confectioners sugar
1/2 teaspoon ground cinnamon
1 and 1/2 teaspoons vanilla
1 tablespoon orange juice
1 tablespoon cornstarch
½ cup semisweet chocolate chips
Method:
1. Preheat your oven to 350 degrees.
2. Strain the ricotta cheese to the best of your ability.
3. Using a stand or electric mixer, beat the strained ricotta until it's nice and creamy.
4. Add in the heavy cream, confectioners sugar, cinnamon, vanilla, orange juice, and cornstarch; beat until the mixture is smooth and somewhat thickened.
5. Stir in the chocolate chips.
6. Place the mini pie shells on a baking sheet and pour the cannoli cream filling into the pie shells.
7. Bake for 20-25 minutes, or until the tops of the pies start to brown just slightly.
8. Remove the pies from the oven, transfer to a wire rack, and let cool at room temperate for about 20 minutes.
9. Place the pies in the fridge for two hours to allow them to set. If you're so inclined, you can drizzle a little chocolate syrup over them right before serving. Or not. They're certainly sweet enough on their own.