It seems like every year around this time, I start to get a little stir crazy…and more than a little tired of winter. I'm just one of those people who really, really doesn't like being cold. Now I can deal with December. For some reason, I'm a total sucker for all that holiday spirit jazz, and it helps keep my mind off the dropping temps. And I'm usually okay with January, mostly 'cause at that point we haven't been dealing with winter for too long. But come February, I'm usually ready to either escape to someplace warm (which is not going to happen with a baby) or otherwise resign myself to hibernation until the cold subsides.
This weekend, I opted for the latter and decided to spend as much time as possible curled up on the couch with a warm blanket and a book. Of course, a night much like the one I had planned for Saturday (when the forecast warned of a winter weather advisory complete with ample amounts of snow) wouldn't be complete without some killer dessert to accompany the couch-blanket-book extravaganza, and so I decided to make a chocolate chip cookie pie.
Now I'm not usually the biggest fan of chocolate chip cookies. Sure, they're a classic dessert, but they're also kind of on the boring side. But take the chocolate chip cookie and serve it up to me in pie form, and I'm golden.
This pie is exceptionally delectable when served warm, though room temperature also works. I especially love the way the chocolate chips form their own gooey layer of deliciousness. For those of you who are just as tired of winter as I am, I recommend baking this super easy pie, carving out a nice, fresh-out-of-the-oven slice, scooping up a generous serving of vanilla ice cream on the side, curling up on the couch with your favorite book/movie/form of entertainment, and letting each sweet bite help whisk away those winter blues.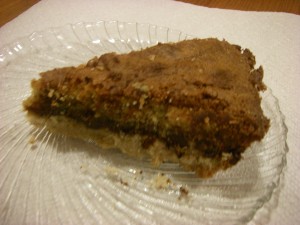 Chocolate Chip Cookie Pie
Slightly adapted from Serious Eats
Ingredients:
For The Crust:
1 and 1/2 cups AP flour
1/2 cup light brown sugar
1/4 cup granulated sugar
1/2 teaspoon salt
1 stick of unsalted butter, melted
For The Filling:
2/3 cup light brown sugar
1/4 cup granulated sugar
1/4 teaspoon salt
3/4 cup unsalted butter, melted
2 large eggs
1 large egg yolk
1 and ½ teaspoons vanilla extract
1/2 cup (2 1/2 ounces) AP flour
1/4 plus 1/8 teaspoon baking soda
1 and ¼ cup semisweet chocolate chips
Method:
1. Preheat your oven to 375 degrees. Butter 9-inch pie or tart plate.
2. Make the crust by combining your flour, brown sugar, granulated sugar, and salt in a large bowl. Stir in the melted butter until moist crumbs form. Press the mixture into bottom and sides of the pan.
3. Make the filling by whisking together your brown sugar, sugar, salt, and butter. Once combined, whisk in the eggs, egg yolk, and vanilla.
4. In a separate bowl, stir together the flour and baking soda until combined. Then stir the flour mixture into the egg/sugar mixture until well-combined.
5. Stir in chocolate chips, and pour the mixture into the crust.
6. Bake for 40-45 minutes, or until the top of the pie turns a nice golden brown. Cool for 45 minutes on a wire rack before serving—the pie will still be nice and warm, but it'll be a lot easier to slice. Serve with vanilla ice cream if desired, and try not to eat the whole in one sitting.