It was my husband's birthday this past weekend. And while I'm not really a birthday person, he usually enjoys a bit of extra attention when his birthday rolls around. So I did what any good wife who couldn't find a babysitter would do: cooked up his favorite dinner and made not one, but two birthday cakes. Now since it's just us plus a 16-month-old at home, that may seem a bit excessive. And it was. But it was also oh so delicious.
The first cake I made was a classic tres leches cake, partly because I know my husband likes it, and partly because his birthday is right before Cinco de Mayo, and, well, I thought it would be both cute and appropriate.
This cake is really easy to make if you have a stand mixer. If you don't, it'll take some effort to whip up your eggs and your cream. But it's so worth it, because this cake is amazing. It's fluffy, moist, and light—which actually makes it kind of dangerous if you lack self-control, which we all know I do. Even my husband couldn't help but go back for seconds. And although I'm usually the world's biggest hypocrite when it comes to letting my son eat sweets (as in, I can stuff my face with cake but he can't have any), I decided to let him have some of this cake to celebrate the occasion. I tried to get a picture of him enjoying Daddy's birthday cake, but my child is a vulture when it comes to food, and by the time I was able to bust out the camera, his cake was long gone.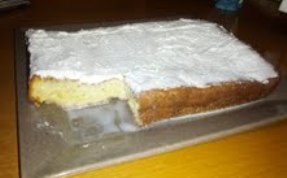 Tres Leches Cake
Recipe from The Pioneer Woman
Ingredients:
For the cake:
1 cup AP flour
1 and 1/2 teaspoons baking powder
1/4 teaspoon salt
5 eggs, separated
1 cup granulated sugar, divided into 3/4 cup and 1/4 cup
1 teaspoon vanilla
1/3 cup whole milk
For the milk mixture:
1 can (12 ounces) evaporated milk
1 can (14 ounces) sweetened condensed milk
1/4 cup heavy cream
For the frosting:
2 cups heavy cream
3 tablespoons granulated sugar
Method:
For the cake:
1. Preheat your oven to 350 degrees. Spray a 9 x 13 inch pan liberally until coated.
2. Combine flour, baking powder, and salt in a large bowl and set aside.
3. Separate your eggs.
4. Beat egg yolks with 3/4 cup sugar on high speed until the yolks turn pale yellow.
5. Stir in milk and vanilla.
6. Pour egg yolk mixture over the flour mixture and stir very gently until combined.
7. Beat egg whites on high speed until soft peaks form. With the mixer on, pour in the remaining 1/4 cup sugar and beat until the egg whites are stiff but not dry.
8. Fold egg white mixture into the batter very gently until just combined.
9. Pour into prepared pan and spread to even out the surface.
10. Bake for 35 to 45 minutes, or until an inserted toothpick comes out clean. Turn cake out onto a rimmed platter and let cool.
For the milk mixture:
1. Combine the condensed milk, evaporated milk, and heavy cream in a small pitcher.
2. Once your cake is cool, pierce the surface with a fork several times. Slowly drizzle all but about 1 cup of the milk mixture over the cake (you can discard the rest, or get creative and save it for a future recipe). Try to get as much around the edges as you can. Allow the cake to absorb the milk mixture for 30 minutes.
For the frosting:
1. Whip the heavy cream and sugar until the mixture thickens.
2. Spread over the surface of the cake.