A lot of people I know don't like white chocolate. "It's too sweet," they'll insist. Well that's fine, but I think white chocolate is utterly delicious. (And since when did "too sweet" become a problem?)
For those of you who find white chocolate to be a bit too sweet on its own, consider these fabulous blondies. The rich, chewy cake captures that classic blondie flavor, and the addition of the macadamia nuts helps offset the sweetness of the white chocolate by introducing just the right amount of saltiness.
Best of all, these blondies are quick and easy. The most time-consuming part of the process for me was chopping the macadamia nuts, and even that didn't take very long (plus, I got to snack on some as sort of a pre-blondie treat).
Enjoy these blondies on their own, or go crazy and drizzle a little bittersweet chocolate sauce over them to jazz 'em up even more.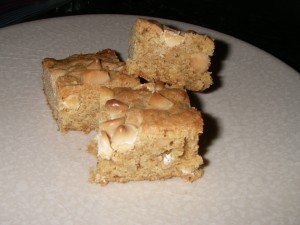 White Chocolate Macadamia Nut Blondies
Recipe very slightly adapted from Beantown Baker
Ingredients:
3/4 cup butter
1 and 1/2 cups brown sugar (I used half dark and half light)
1 tbsp plus 1 tsp vanilla
2 eggs
2 cups AP flour
1 and 1/2 tsp baking powder
1 cup coarsely chopped macadamia nuts, divided
1 cup white chocolate chips, divided
Method:
1. Preheat your oven to 350 degrees and grease a 9×13 baking pan.
2. Heat the butter and brown sugar in a saucepan over low heat or in your microwave on low power until melted. Let cool to room temperature before continuing.
3. Beat the vanilla and eggs into your sugar mixture.
4. Beat in flour and baking powder on low speed.
5. Stir in half of the macadamia nuts and white chocolate chips.
6. Pour the mixture into your prepared pan, and then sprinkle with remaining nuts and white chocolate chips.
7. Bake 30-35 minutes, or until an inserted toothpick comes out clean. The tops of the blondies should be slightly browned—but not too brown—before you remove them from the oven.
8. Let the blondies cool completely in their pan before cutting into them.