I'm impressed. I went apple picking several weeks ago at this point, but my apples still taste fresh and delicious. Storing them in the fridge probably helped, but it just goes to show that getting fruits and veggies right from the source is usually the best way to go.
Even though I was itching to make another cake out of pumpkin, I couldn't let my seemingly never-ending supply of apples go to waste, and so I whipped up this yummy (and, ahem, incredibly easy) apple coffee cake. I have to say, I just love the way this cake came out. It was nice and moist (thank you, sour cream), and sweet without being too sweet. I was worried that the topping would add too much sugar, but it ended up balancing the cake out nicely.
If you're looking for a way to use up some extra apples, give this recipe a try. You really won't be sorry.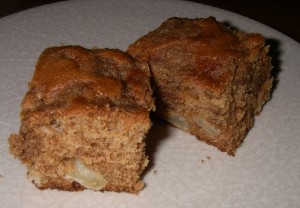 Apple Coffee Cake With Buttery Brown Sugar Topping
Recipe from Laura's Sweet Spot
Ingredients:
For the cake:
1/4 cup (1/2 stick) unsalted butter
3/4 cup light brown sugar
1 large egg
1 cup AP flour
1/2 tsp baking soda
1/2 tsp cinnamon
1/2 tsp salt
1/2 cup sour cream
1/2 tsp vanilla
1 cup apples, peeled and sliced (I used a combination of Granny Smith and Golden Delicious, and that worked well for this cake)
For the topping:
1/4 cup light brown sugar
1/4 cup AP flour
1/2 tsp cinnamon
2 tbsp unsalted butter, softened
Method:
Preheat your oven to 350 degrees. Lightly grease an 8×8 baking pan and set aside.
To make the cake, in a large bowl, cream together the butter and sugar until light and fluffy. Beat in the egg until well-combined
In a separate bowl, mix together the flour, baking soda, cinnamon, and salt. Add the dry ingredients to the wet ingredients, alternating with the sour cream and vanilla.
Fold in the apples.
Pour the batter into your prepared pan.
To make the topping, combine the sugar, flour, cinnamon, and butter. Use your fingers to work it into a soft crumb mixture.
Sprinkle the topping over the cake and bake for 35-40 minutes, or until an inserted toothpick comes out clean.
Let the cake cool in its pan completely before serving.
Note: The original recipe calls for double the ingredients. You can follow that and just bake your cake in a 9×13 pan. I wanted a slightly smaller cake this time around since it was pretty much only going to be me and my mom eating it, but if you've got a crowd to feed, feel free to go for the larger version.