Okay…there are still apples in my fridge. Lots and lots of apples.
You know what that means: another apple cake, this time with some dried cranberries and walnuts for good measure. This recipe is essentially the same one I used for my last apple cake, only without the brown sugar topping. You can add the topping if you'd like, but I really don't think this cake needs it.
I'll stop making apple cakes (at least for a little while) until my supply is depleted. Till then, please bear with me.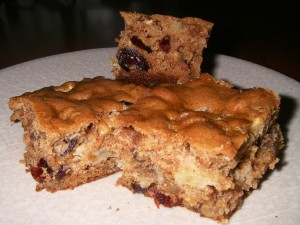 Apple Cranberry Walnut Coffee Cake
Ingredients:
1/4 cup (1/2 stick) unsalted butter
3/4 cup light brown sugar
1 large egg
1 cup AP flour
1/2 tsp baking soda
1/2 tsp cinnamon
1/2 tsp salt
1/2 cup sour cream
1/2 tsp vanilla
1 cup apples, peeled and sliced
1/2 cup dried cranberries
1/2 cup chopped walnuts
1/4 cup raisins (not really necessary, but I wanted to use some up)
Method:
Preheat your oven to 350 degrees. Lightly grease an 8×8 baking pan and set aside.
To make the cake, in a large bowl, cream together the butter and sugar until light and fluffy. Beat in the egg until well-combined
In a separate bowl, mix together the flour, baking soda, cinnamon, and salt. Add the dry ingredients to the wet ingredients, alternating with the sour cream and vanilla.
Stir in the apples, dried cranberries, walnuts, and raisins (if you're using them).
Pour the batter into your prepared pan and bake for 35-40 minutes, or until an inserted toothpick comes out clean.
Let the cake cool in its pan completely before serving.