A few weeks ago, I stumbled across a wonderful little blog called Dunk and Crumble while looking for a chewy blondie recipe—'cause that's just how I like my blondies. I found this recipe and decided to tweak it just a bit by adding toffee bits to the mix. This recipe makes a nice-sized 9 x 13 pan, and it took almost no time to throw together. Best of all, I didn't have to bust out the stand mixer, hand mixer, food processor, or anything of the sort. All I needed were some mixing bowls, a whisk, a spoon, and a pot for browning the butter. The result? A tasty, chewy blondie that made this busy baking mama a very happy gal.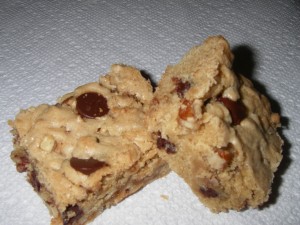 Chewy Brown Butter Chocolate Pecan Toffee Blondies
Ingredients:
1 and 1/2 cups AP flour
1 teaspoon baking powder
½ teaspoon salt
1 and 1/2 sticks unsalted butter, plus extra to grease the pan
1 cup dark brown sugar
½ cup white sugar
2 large eggs
1 tablespoon vanilla extract
2/3 cup bittersweet chocolate chunks (I used Ghirardelli—they were on sale)
½ cup chopped pecans
1/3 cup toffee bits
Method:
1. Preheat your oven to 350 degrees.
2. Butter and line a 9×13 baking pan with parchment paper, letting two inches of the paper hang over the side of the pan.
3. Combine the sifted flour, baking powder, and salt in a small-medium bowl
4. Place the butter in a saucepan over medium heat and keep heating it, stirring frequently, until it turns nice and golden brown. Once browned, bring the butter back to or close to room temperature (if you're impatient like me, you can consider cheating and putting it in the fridge for a few minutes).
5. Mix the white and brown sugars in a medium bowl.
6. Add the cooled butter to the sugars and whisk until well-combined.
7. Add the eggs to the sugar-butter mixture and whisk.
8. Whisk in vanilla.
9. Add in the flour mixture and whisk until just incorporated.
10. Stir in the chocolate chunks, pecans, and toffee bits.
11. Transfer your batter into the prepared pan (it will be pretty sticky and dense, but resist the urge to mess with it).
12. Bake for about 30 minutes, or until the top and sides start to brown slightly and an inserted toothpick comes out clean.
13. Lift the bars out of the pan using the parchment paper and cool on a rack. Once they're completely cool, feel free to slice 'em up—and do your best not to eat half of them in a single sitting.