I'm not a particularly big Nutella fan on its own. Some people can just sit there and eat that stuff by the spoonful, but I'm not one of them. On the other hand, I often find that when you take Nutella and add into the right recipe, it can work wonders on the flavor front. Case in point: these Nutella brownies. What you've got here is the rich, chocolate goodness of a classic fudge brownie enhanced by the addition of Nutella. To balance out the sweetness a little, I used bittersweet chocolate chunks in my recipe, but if you're not afraid of really sweet things, feel free to substitute with semisweet or milk chocolate chips.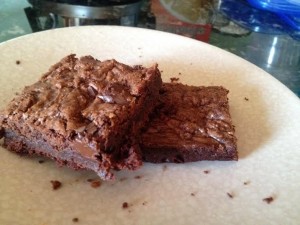 Nutella Brownies
Ingredients:
1 stick of butter, melted
1/2 cup granulated sugar
1/2 cup dark brown sugar
1 large egg
1 tsp vanilla
1 cup AP flour
1/4 tsp salt
1/2 cup cocoa powder
1 cup Nutella
1 cup bittersweet chocolate chunks
Method:
Preheat your oven to 350 degrees. Grease an 8×8 baking pan and set aside.
In a large bowl, whisk together the butter, sugars, egg, and vanilla. Set aside.
In a small bowl, combine the flour, salt, and cocoa powder.
Mix the dry ingredients into the wet until well-combined; then stir in the Nutella and chocolate chunks.
Pour the batter into your prepared pan. Bake for 28-32 minutes, or until an inserted toothpick comes out clean. Let the brownies cool in the pan for at least an hour before slicing and serving.