I just love me a good brownie. And I also happen to be a big fan of the whole chocolate-peanut butter combo. So basically, if you're me, these brownies are a very good thing. They feature a rich, fudgy chocolate-peanut butter base with a chunky peanut butter filling. Talk about yum.
Incidentally, my work schedule recently changed (read: got more demanding) and so I haven't been posting (or baking, for that matter) quite as regularly as I normally would. I wonder if this new schedule will have a positive effect on both my wallet and waistline…guess we'll have to see what happens.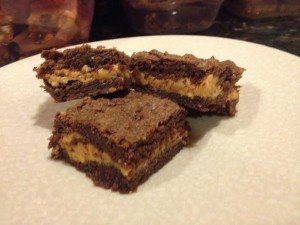 Chocolate Chunky Peanut Butter Brownies
Ingredients:
1 stick of butter, melted
1/2 cup granulated sugar
1/2 cup dark brown sugar
1 large egg
1 tsp vanilla
1 cup AP flour
1/4 tsp salt
1/2 cup cocoa powder
1/2 cup smooth peanut butter
3/4 cup chunky peanut butter
Method:
Preheat your oven to 350 degrees. Grease an 8×8 baking pan and set aside.
In a large bowl, whisk together the butter, sugars, egg, smooth peanut butter, and vanilla. Set aside.
In a small bowl, combine the flour, salt, and cocoa powder.
Mix the dry ingredients into the wet until well-combined.
Pour half of the batter into your prepared pan.
Spread the chunky peanut butter on top of the base layer using either the greased back of a spoon or an offset spatula.
Spread the remaining brownie batter on top.
Bake for 30 minutes, or until an inserted toothpick comes out clean. Let the brownies cool in the pan for at least an hour before slicing and serving.